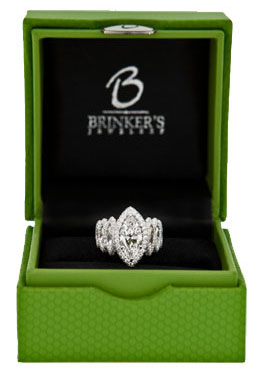 Evansville, Indiana – Indiana copyright attorneys for Brinker Manufacturing Jewelers, Inc. d/b/a Brinker's Jewelers of Evansville, Indiana (Brinker's) and South Central Communications Corporation d/b/a South Central Digital of Nashville, Tennessee ("South Central Digital") filed a copyright infringement lawsuit in the Southern District of Indiana alleging, inter alia, that Rogers Galleria Jewelers, LLC d/b/a The Diamond Galleria by Rogers of Evansville, Indiana ("Rogers"), Tyna Wheat of Hendersonville, Kentucky and Sharon Sartore of Henderson, Kentucky infringed the advertising material on Brinker's website, which has been copyrighted by the U.S. Copyright Office.
Brinker's has operated a jewelry store in Evansville, Indiana since 1972. Rogers opened a nearby store called The Diamond Galleria by Rogers in 2013. The two showrooms are approximately 3 miles apart.
In this Indiana copyright complaint, Brinker's accuses Rogers of "blatant and extreme violations of federal copyright and trade dress and unfair competition law and Indiana statutory and common law with regard to Brinker's intellectual property rights, business relationships, goodwill and business reputation."
Specifically, Rogers is accused of copying Brinker's advertising and branding materials including the design of Brinker's showroom and jewelry boxes, as well as copying some of Brinker's taglines, written advertisements and Internet advertising. Brinker's also contends that Rogers falsely represented the nature of Rogers' business to two jewelry vendors so that it could offer jewelry to the public that had previously been offered exclusively by Brinker's.
In its complaint, filed by Indiana copyright litigators, Plaintiffs allege the following:
Count I: Copyright Infringement
Count II: Trade Dress Infringement and Unfair Competition under the Lanham Act
Count III: Common Law Trademark Infringement, Unfair Competition and Deceptive Trade Practices
Count IV: Conversion
Count IV [sic]: Misappropriation of Advertising Ideas and Style of Doing Business
Count V: Tortious Interference with Contract or Business Relationship
Plaintiffs ask the court:
that Rogers, Wheat, and Sartore, jointly and severally, be found liable for actual or statutory damages; 
for an accounting of, and the imposition of a constructive trust with respect to, the Defendants' profits attributable to their infringement of Brinker's copyrights and trade dress and unfair competition violations;
 for a preliminary and permanent injunction prohibiting the Defendants and their agents from continuing to infringe Brinker's copyrights and violate Brinker's rights to its intellectual property pursuant to the Lanham Act and common law; 
for treble or punitive damages; 
for prejudgment interest; and
for Brinker's attorneys' fees and expenses.
Practice Tip:
The traditional rationale behind granting copyright protection is to encourage the production of creative works. Without such protection, investment in creative works would be substantially diminished.
For example, those who incur the costs of creating an original work – e.g., the creators of a movie spend time writing a script, pay actors, rent studio space and the like – would not be able to recoup such costs if others were allowed to reproduce the work for no more than it costs to copy a DVD and then offer it to the marketplace at a price point that did not include all of the costs of the work's creation.
The traditional argument for copyright protection is not as strong in the advertising context. Critics of copyright protection for advertising argue that most marketing works would be created regardless of the existence of copyright protection for the work because effective advertising results in direct benefits for its creators in the form of increased sales. Thus, no additional protection is necessary.
As a result, some have advocated statutory adjustments to the copyright protection that advertising may receive. Among the proposals is that Congress extend the doctrine of "thin" copyright protection, which is used for, e.g., factual compilations, to advertising material. Under this proposed level of copyright protection, a virtual identity between the original advertising and the accused advertising would be required before liability for copyright infringement would be found.
The suit was filed by Nick J. Cirignano, Jean M. Blanton, and Molly E. Briles of Ziemer, Stayman, Weitzel & Shoulders, LLP. The case was assigned to Chief Judge Richard L. Young and Magistrate Judge William G. Hussmann in the Southern District of Indiana and assigned Case No. 3:14-cv-00134-RLY-WGH.