Indianapolis, IN – Trademark lawyers for American Petroleum Institute ("API") of Washington, D.C. filed a trademark infringement suit in alleging Tailor Made Oil Co., LLC of Cambridge City, Indiana, TMO Oil, LLC of Fishers, Indiana, Circle Town Oil of Fishers, Indiana, William R. Selkirk and Rebecca Selkirk of Cambridge City, Indiana, Lincoln R. Schneider of Fishers, Indiana and Jafarikal Corporation of Rosedale, New York infringed trademark registration no. 1,864,428 for the AMERICAN PETROLEUM INSTITUTE CERTIFIED STARBURST registered with the US Trademark Office.
The trademark at issue is a starburst mark used by API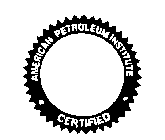 to designate that products have met certain quality standards, which are monitored and enforced continuously. The complaint alleges that the individual defendants own and operate the corporate defendants as an interrelated business that offers low quality engine oil for sale. In March 2010, Tailor Made obtained certification for its engine oil, and a one year license to use the starburst mark on its products. In order to renew the one year license, Tailor Made was required to report its sales and to pay a renewal fee to API. Tailor Made failed to comply with these requirements and has continued to sell products bearing the trademarked starburst without authorization.
The complaint also states that API obtained a sample of the engine oil in April 2011 and found that the oil did not meet API's quality standards. API claims that Tailor Made and Circle Town maintain websites that falsely advertise that their engine oil meets the API quality standards. Jafarikal is a distributor of Tailor Made Oil products and also advertises that Tailor Made's products meet or exceed API's standards. API has made claims of trademark counterfeiting under the Lanham Act, trademark infringement, false advertising, unfair competition, trademark dilution, breach of contract, common law trademark infringement and unfair competition, fraud and forgery. API is seeking an injunction, statutory damages of $1,000,000 per type of good sold, seizure and destruction of any infringing products, actual and treble damages, attorney fees and costs.
Practice Tip: Here, API has cited 15 U.S.C. § 1117(c)(2) for its request of statutory damages for each class of goods sold with a counterfeit mark. This section of the Lanham Act caps damages at $2,000,000 for willfully selling, offering, or distributing a type of good with a counterfeit mark.

This case has been assigned to Judge Tanya Walton Pratt and Magistrate Judge Tim A. Baker in the Southern District of Indiana, and assigned Case No. 1:11-cv-01386-TWP-TAB.Complaint


Further Information about the case is as follows:
Filed: October 14, 2011 as 1:2011cv01386 Updated: October 18, 2011 6:04:28
Plaintiff: AMERICAN PETROLEUM INSTITUTE
Defendants: CIRCLE TOWN OIL, JAFARIKAL CORPORATION, LINCOLN R. SCHNEIDER, REBECCA SELKIRK, TAILOR MAKE OIL CO, LLC and others
Presiding Judge:Tanya Walton Pratt
Referring Judge:Tim A. Baker
Cause Of Action: Trademark Infringement
Court:Seventh Circuit > Indiana > Southern District Court
Type:Intellectual Property > Trademark