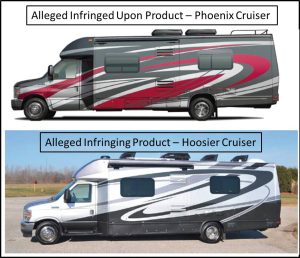 Elkhart, Indiana – Phoenix USA RV, Inc., ("Phoenix USA") founded in 1996 designs, builds, markets, and sells custom motor homes to customers through authorized retailers across the United States.
In 2017, Phoenix USA sold to the current owners Chuck and Tina Cooper.  Many of the employees became unhappy with the direction of the company under new ownership.  They left the company and started Hoosier Custom Cruisers LLC.
According to the complaint, the Defendants, used trade secrets and other information to design and build a directly competing product.