Indianapolis, Indiana – Attorneys for Plaintiffs, CMB Entertainment, LLC ("CMB") a limited liability company formed under the laws of the State of Indiana and Bryan Abrams ("Abrams") of Oklahoma, filed suit in the Southern District of Indiana alleging that Defendants, Mark Calderon ("Calderon") of Ohio and Pyramid Entertainment Group, Inc. ("Pyramid") of New York, New York, transacting business in the State of Indiana,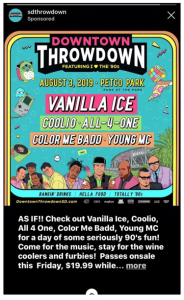 infringed CMB's rights in the federally registered U.S. trademark "COLOR ME BADD" (the "Mark") and Calderon breached his fiduciary duties. Plaintiffs are seeking a preliminary injunction, damages, treble damages, pre-judgment interest, attorneys' fees, and costs.
According to the complaint, CMB has two members, Abrams and Calderon, who were also two of the founding members for "Color Me Badd", (the "Group") a well-known R&B group. Plaintiffs claim Pyramid conducts business in Indiana as a booking agent which books shows and performances for the Group. Abrams claims he kept the Mark alive during the Group's hiatus from 2000 to 2009/2010 by performing as Color Me Badd without the other three founding members.
Abrams and Calderon allegedly reformed the Group to perform at a concert in Hawaii in July 2010. A third member, Kevin Thornton ("Thornton") then allegedly rejoined and the three formed CMB on May 26, 2011 for the business operations of the Group including owning the Group's intellectual property rights. CMB filed to register the Mark on or about July 22, 2011 and was granted the Serial No. 85,378,693. Plaintiffs claim CMB is the sole owner of the Mark and at the time of formation, each member held an equal one-third interest in the company. While an operating agreement for CMB was drafted in October 2013, according to the complaint, it was never executed.