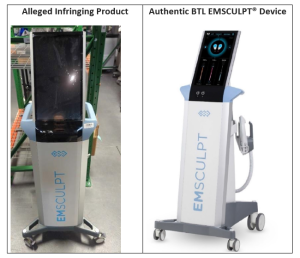 Indianapolis, Indiana –The Plaintiff, BTL Industries, Inc.  filed suit against Defendant, JV Medical Supplies, Inc.  for  trademark infringement,  false advertising and patent infringement.
BTL Industries, founded in 1993, is a leading manufacturer of non-invasive medical devices that are used for cosmetic and therapeutic purposes. The company holds several patents and trademarks related to its products, including its flagship product, the EMSCULPT device. The EMSCULPT is a non-invasive medical device designed to stimulate muscle contraction using electromagnetic energy. The device is used for body contouring, muscle strengthening, and rehabilitation. The FDA has cleared EMSCULPT for non-invasive treatment for the abdomen, buttocks, arms, calves and thighs.
JV Medical Supplies, a competitor of BTL Industries, also manufactures a similar medical device called the Muscle Stimulator. The Muscle Stimulator is marketed and sold as a non-invasive device that uses electromagnetic energy to stimulate muscle contraction, and it is intended for use in body contouring and muscle strengthening applications. The Indiana Secretary of State indicates that the corporation was created in 2021.