Asheville, NC – Patent attorneys for Borg Warner, Inc. of Auburn Hills, Michigan and Borgwarner Turbo Systems, Inc. of Arden, North Carolina have filed a patent infringement suit in the Western District of North Carolina alleging Cummins, Inc. of Columbus, Indiana, Cummins Turbo Technologies Limited of the United Kingdom, and Cummins Turbo Technologies of North Charleston, South Carolina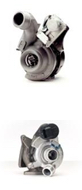 infringed patent no. 6,904,949, Method of making turbocharger including cast titanium compressor wheel; along with patent no's. 6,629,556 and 6,663,347, Cast titanium compressor wheel, which have been issued by the US Patent Office. These patents are known collectively as "the Borg Warner Compressor Wheel Patents".
The patents at issue are designs for and methods of manufacturing titanium compressor wheels for use in turbocharger applications. Bloomberg.com described the technology "directing air into an engine's manifold." The complaint alleges that Cummins infringes the Borg Warner patents by importing, making, selling, and offering for sale devices created by the patented methods. Borg accuses Cummins of directing its foundries to use the patented methods. The complaint makes three claims of patent infringement and seeks an injunction, damages and attorney fees.
Practice Tip: According to Reuters.com, patent lawyers for Borg Warner filed a similar patent infringement lawsuit against Honeywell, which resulted in a $32.5 million settlement in favor of Borg Warner.

This case has been assigned to District Judge Martin Reidinger and in the Western District of North Carolina, and assigned Case No. 1:11-cv-00283-MR.BorgWarnerComplaint
Further Information about the case is as follows:
Filed: October 26, 2011 as 1:2011cv00283 Updated: October 27, 2011 05:02:52Plaintiffs: Borgwarner Turbo Systems, Inc. and BorgWarner, Inc.Defendants: Cummins Turbo Technologies Limited and Cummins, Inc.Presiding Judge:Martin ReidingerCause Of Action: Patent InfringementCourt:Fourth Circuit > North Carolina > Western District CourtType:Intellectual Property > Patent