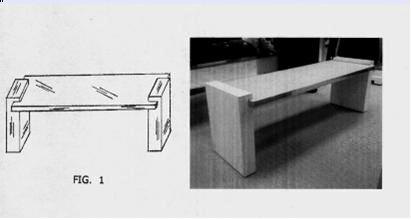 Indianapolis, IN – Brandon S. Judkins of Indianapolis, Indiana filed a patent infringement suit alleging Polo Ralph Lauren Corporation of New York, New York infringed Patent No. D591,090, FURNITURE ARTICLE, which has been issued by the US Patent Office. The patent in question is a design patent of a table.
The complaint alleges that Polo Ralph Lauren is importing, making, using, selling or offering for sale tables that infringe Mr. Judkin's patent. Specifically, Mr. Judkins alleges that he has seen infringing tables at Macey's and Carson Pirie Scott locations in Indianapolis. The complaint states that Polo Ralph Lauren is using the tables to display apparel at the stores. Mr. Judkins, an attorney, is representing himself in this case. Mr. Judkins seeks an injunction, declaratory judgment, damages, and costs.
This case has been assigned to Chief Judge Richard L. Young and Magistrate Judge Debra McVicker Lynch in the Southern District of Indiana, and assigned Case No. 1:11-cv-00661-RLY-DML.
Practice Tip: In 2008, the Federal Circuit clarified the test for infringement of design patents in Egyptian Goddess, Inc. v. Swisa, Inc., 543 F.3d 665 (Fed. Cir. 2008). In that case, the court adopted the "ordinary observer" test to replace the "point of novelty" test. In the complaint here, the patented design appears to be pretty basic. The plaintiff may face an uphill battle.

Complaint
Further Information about the case is as follows:
Filed: May 16, 2011 as 1:2011cv00661 Updated: May 18, 2011 01:09:03
Plaintiff: BRANDON S. JUDKINS
Defendant: POLO RALPH LAUREN CORPORATION
Presiding Judge:Richard L. Young
Referring Judge:Debra McVicker Lynch
Cause Of Action: Patent Infringement
Court:Seventh Circuit > Indiana > Southern District Court
Type:Intellectual Property > Patent