New Albany, Indiana –Thomas A. Person ("Person"), the Plaintiff, claims to have invented a cigar "Cedar spill" protected by U.S. Patent Nos. 8,507,070 and D664,292 (the "'070 Patent", the "'292 Patent", collectively "Person's Patents").  The entity Defendants, Cigar Reserve LLC and Collett Enterprises, Incorporated, allegedly sell products that infringe Person's Patents.  The individual Defendants, Brian and Chanda Kurland, are each purportedly members of and control Cigar Reserve.
According to the Complaint, Person discovered Cigar Reserve was selling a cedar spill for a cigar around August 13, 2013. After multiple communications with Mr. Kurland, the two parties entered into a License Agreement on June 16, 2014.  The term of the License Agreement was seemingly extended on at least two occasions until Mr. Kurland was informed the License Agreement would terminate on January 1, 2017.  Person states he discovered allegedly infringing products being sold by the Defendants on October 3, 2020, more than three years after the License Agreement ended.  Therefore, Person is suing for patent infringement of both Person's Patents pursuant to 35 U.S.C. § 271.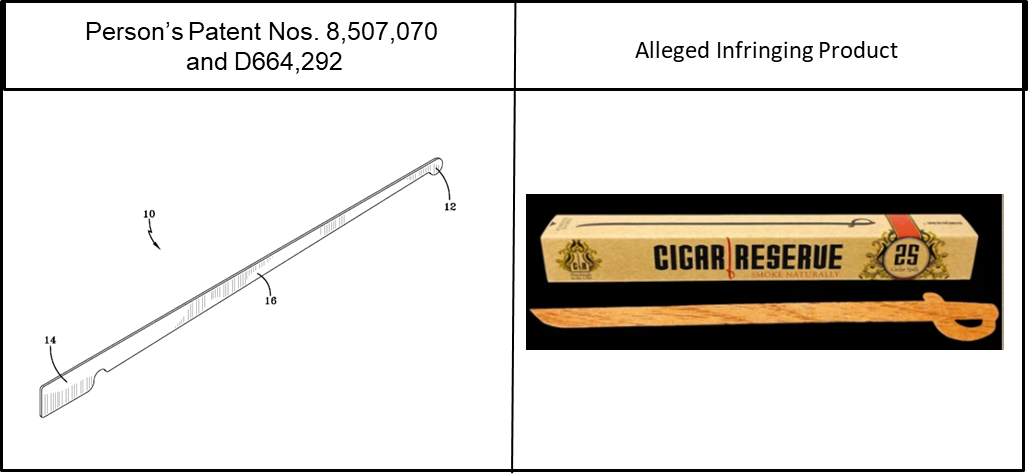 The case was assigned to District Judge Tanya Walton Pratt and Magistrate Judge Debra McVicker Lynch in the Southern District and assigned Case 4:20-cv-00212-TWP-DML.