Evansville IN – Patent lawyers for GHJ Holdings of Texarkana, Texas filed a patent infringement suit in the Eastern District of Texas alleging Indian Industries, Inc. d/b/a Escalade Sports of Evansville, Indiana falsely marked products with expired and inapplicable patent no. 5,899,824, SNAP-FIT DART AND ADAPTER, 5,498,004, GAME DART, 5,271,625, FLEXIBLE  POINT DART, 5,067,728, LAWN DART WITH SAFETY FEATURE, D425,943, and D425,572,FINS FOR A GAME DART, and D446,275 TONGUE AND GROOVE WOOD COVERED OUTDOOR POOL TABLE which have been issued by the US Patent Office. The case was transferred to the Southern District of Indiana on August 24, 2011 upon motion of Indian Industries.
The complaint alleges that packaging of Indian Industries product Accudart® Flight Savers states the product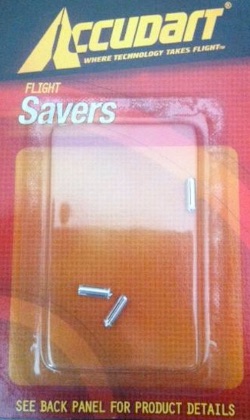 is protected by numerous patents, however, the patents listed on the packaging cover completely different types of products. The Flight Savers are an attachment to the back end of a dart. The patents listed on its packaging, however, cover a dart shaft and fin designs. The complaint alleges the packaging of Indian Industries product Mizerak™ Deluxe Chalk Cue and various other billiard equipment products are falsely marked with a patent '275, which covers a billiards table cover. The complaint seeks civil monetary fines, damages, costs, attorney fees and an injunction.
Practice Tip: This case has been brought qui tam, meaning GHJ has initiated the suit but it is the United States government who has been injured. The Patent Act essentially assigns the interest of the United State to private parties who may seek to enforce the false marking claim. 35 U.S.C. 292 states:
(a) . . .Whoever marks upon, or affixes to . . . any unpatented article, the word "patent" or any word or number importing that the same is patented, for the purpose of deceiving the public
. . .
Shall be fined not more than $500 for every such offense.
(b) . . . Any person may sue for the penalty, in which event one-half shall go to the person suing and the other to the use of the United States.
(emphasis added). In this case, before it was transferred to the Southern District of Indiana, the United States Attorney had filed an unopposed motion to intervene.

This case has been assigned to Chief Judge Richard L. Youngand Magistrate Judge William G. Hussmann in the Southern District of Indiana, and assigned Case No. 3:11-cv-00104-RLY-WGH.GHB v Indian Industries Complaint


Filed: August 24, 2011 as 3:2011cv00104 Updated: September 7, 2011 01:35:12
Plaintiff: GHJ HOLDINGS, LLC
Defendant: INDIAN INDUSTRIES, INC.
Intervenor: UNITED STATES OF AMERICA
Presiding Judge: Richard L. Young
Cause Of Action: Fed. Question
Type: Intellectual Property > Patent