South Bend, IN – Patent lawyers for Heartland Recreational Vehicles, LLC of Elkhart, Indiana filed a patent infringement lawsuit alleging Forest River, Inc. of Elkhart, Indiana infringed Patent No. 7,878,545, Travel trailer having improved turning radius, which has been issued by the US Patent Office.
Both Heartland and Forest River sell travel trailers in Elkhart, Indiana. The '545 patent was issued to Heartland on February 1, 2011.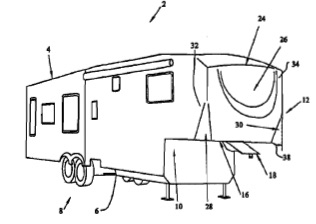 The complaint alleges that Forest River is making, using, selling or offering for sale travel trailers, specifically the Silverback product, that infringe Heartland's patent. Heartland seeks a declaration of infringement, an injunction, damages, treble damages, attorney's fees and costs.
This case has been assigned to Judge Jon E. DeGuilio and Magistrate Judge Christopher A. Nuechterlein in the Northern District of Indiana, and assigned Case No. 3:11-cv-00250-JD –CAN.
Practice Tip: The Patent Act, 35 U.S.C. 287(a), does not allow a patent holder to collect damages from an infringer unless the patentee has given notice of the patent, normally by affixing the patent number on the product or packaging. In this case, the patent was issued only five months ago so there may be an issue about whether Forest River had notice. The Patent Act, 35 U.S.C. 287(a), however, provides that the filing of a patent infringement lawsuit constitutes the required notice.

Further Information about the case is as follows:
Filed: June 14, 2011 as 3:2011cv00250 Updated: June 15, 2011 05:00:18
Plaintiff: Heartland Recreational Vehicles LLC
Defendant: Forest River Inc
Presiding Judge:Jon E DeGuilio
Referring Judge:Christopher A Nuechterlein
Cause Of Action: Patent Infringement
Court:Seventh Circuit > Indiana > Northern District Court
Type:Intellectual Property > Patent