Indianapolis, Indiana – Cook Productions, LLC of Los Angeles, California filed a lawsuit accusing unnamed Doe Defendants of copyright infringement.  The lawsuit, filed in the Southern District of Indiana, mirrors another lawsuit filed by Cook Productions in the Northern District of Indiana.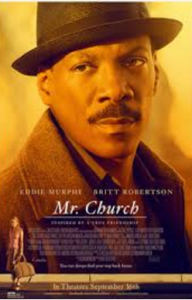 The copyrighted work at issue is the motion picture "Mr. Church," which features Eddie Murphy and Britt Robertson.  The movie has been registered with the U.S. Copyright Office under Registration No. PA 2-002-851.
In this litigation, filed by a copyright lawyer for Plaintiff, the ten unnamed Doe Defendants are accused of having participated in a BitTorrent swarm to disseminate illegal copies of the movie.  Plaintiff states that it used geolocation technology to trace Defendants to the Southern District of Indiana.
The complaint alleges willful and intentional copyright infringement and seeks injunctive relief, damages, costs and attorneys' fees.
The case was assigned to District Judge Tanya Walton Pratt and Magistrate Judge Debra McVicker Lynch in the Southern District of Indiana and assigned Case No. 1:16-cv-03158-TWP-DML.