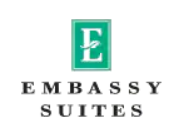 Indianapolis, Indiana – Plaintiff and Attorney, Richard N. Bell of McCordsville, Indiana filed suit in the Southern District of Indiana alleging that Defendant, Embassy Suites Management LLC ("Embassy") infringed his rights to the "Indianapolis Nighttime Photo" registered on August 4, 2011 with the US Copyright Office, Registration No. VA0001785115. Plaintiff is seeking actual and statutory damages, costs, reasonable attorney's fees, and other relief deemed just and proper.
Bell, an attorney and professional photographer, has filed many copyright infringement cases to enforce his intellectual property rights. The photograph of the Indianapolis skyline in this case was taken in March 2000 and first published on the internet on August 29, 2000. Plaintiff is and has been the sole owner of the copyright and has published and licensed for publication the photograph in compliance with copyright laws.
Embassy used the Indianapolis Nighttime Photo on its website it created to advertise its Indianapolis business. Bell claims Embassy took the photograph from the internet without his permission. As it did not disclose the source of the photograph, Plaintiff claims Defendant willfully and falsely claimed that it owned the copyrights of all images on its website. Bell is seeking judgment declaring Defendant infringed his rights under the common law and the Federal Copyright Act.
The case was assigned to District Judge James R. Sweeney II and Magistrate Judge Matthew P. Brookman in the Southern District and assigned Case 1:19-cv-00209-JRS-MPB.