Indianapolis, Indiana – Attorneys for Plaintiff, JLC-Tech LLC ("JLC") of Pembroke, Massachusetts, filed suit in the Southern District of Indiana alleging that Defendant, Edge Systems Group LLC d/b/a Electra Display ("Edge Systems") of Indianapolis, Indiana, infringed its intellectual property rights regarding its T-BAR LED™ product. JLC is seeking injunctive relief, actual and statutory damages, reasonable attorney's fees, costs, and expenses.
Pursuant to the complaint, JLC was founded in 2010 to develop revolutionary LED lighting fixtures. JLC claims the T-BAR LED™ is its flagship product and is designed to be used in suspended grid ceilings. The T-BAR LED™ is further claimed to be able to be used as a building element, essentially replacing a standard cross tee, as well as providing lighting. JLC claims the product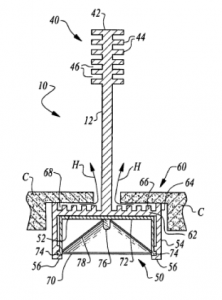 can be placed within a ceiling with just a snap and the T-BAR LED ™ is possible due to JLC's invention of a high-performance heat dissipation system. The "T-Bar for Suspended Ceiling with Heath Dissipation System for LED Lighting" is claimed in United States Patent No. 8,177,385 (the "'385 Patent").
JLC claims it commissioned photographs of its T-BAR LED™ product for use on its website and physical brochures for advertising and marketing purposes. On July 18, 2018, the U.S. Copyright Office registered JLC's work entitled "March 2014 T-BAR LED (Linear Lighting) Brochure" under Registration Number VA 2-137-216. JLC's work entitled "October 2015 T-BAR LED (Linear Lighting) Brochure" was also registered with the U.S. Copyright Office on July 18, 2018 and given the Registration Number VA 2-137-165. The complaint alleges JLC owns all right title and interest in both the March and October brochures, collectively the "JLC Protected Works".
On May 4, 2017, JLC filed an intellectual property infringement case against OKT Lighting ("OKT") in the Eastern District of Pennsylvania. After filing suit, JLC claims OKT agreed to cease all infringing activities including removing JLC's copyrighted works being used as advertisements on OKT's website and all sales of OKT's infringing T-Bar LED product. JLC claims it filed a voluntary dismissal of that case because of these agreements.
JLC believes that Edge Systems is a distributer of OKT's products and is engaging in infringing activities of JLC's intellectual property. The complaint alleges that Edge Systems' website offers for sale a product called the "LED Grid Light Linear Fixture" accompanied by photographs contained in the JLC Protected Works. JLC claims that Edge Systems advertises JLC's T-BAR LED™, but sells OKT's products with Model Numbers TB4-DM-XXX and/or TB2-DM-XXX (the "OKT Products").
Pursuant to 17 U.S.C. § 501, et seq., JLC is claiming copyright infringement against Edge Systems. JLC is also claiming Federal Unfair Competition and False Advertising as it claims Edge Systems is advertising JLC's product while actually selling the allegedly inferior OKT Products. JLC is seeking injunctive relief and recovery of its damages, attorney's fees, costs, and expenses pursuant to 15 U.S.C. §§ 1116 and 1117.
The case was assigned to District Judge Tanya Walton Pratt and Magistrate Judge Doris L. Pryor in the Southern District and assigned Case 1:19-cv-01468-TWP-DLP.