Indianapolis, Indiana – Attorneys for Plaintiff, Gabriella Bass of Brooklyn, New York, filed suit in the Northern District of Indiana alleging that Defendant, COTR, LLC of Indianapolis, Indiana,  infringed her rights in United States Copyright Registration No. VA 2-055-082. Plaintiff is seeking damages, statutory damages, costs, expenses, attorneys' fees, pre-judgment interest, and other relief as the Court may deem just and proper.
The copyright at issue in this case is that for photographs of the fearless girl statue in New York City with the addition of a urinating dog. Bass licensed the photographs that she took to the New York Post. They subsequently ran an article featuring the photo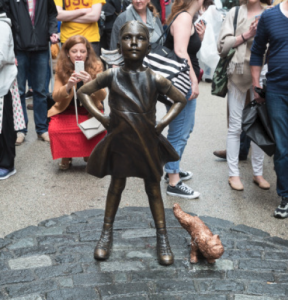 graphs on May 29, 2017 with Bass listed as the photographer. Following the release of the New York Post article, COTR ran an article on their website featuring Bass' photographs. COTR, however, failed to license the photographs from Bass or obtain her permission or consent to publish the photographs in their article.
Bass is suing for copyright infringement under 17 U.S.C. §§ 106 and 501 for COTR's unauthorized use of her photographs. She is seeking damages and statutory damages for this violation for up to $150,000 per work infringed under 17 U.S.C. §504. Bass also alleges that COTR violated 17 U.S.C. § 1202(b) by removing copyright management information identifying Bass as the photographer. Statutory damages under this violation fall under 17 U.S.C. § 1203(c)(3) and amount to at least $2,500 up to $25,000 per violation.
The case was assigned to Senior Judge Joseph Van Bokkelen and Magistrate Magistrate Judge John Martin in the Northern District and assigned Case 4:18-cv-00071-JVB-JEM.