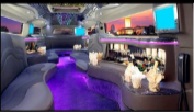 Indianapolis, Indiana – Copyright attorney, professional photographer and frequent litigant Richard Bell of McCordsville, Indiana filed the latest in a string of Indiana lawsuits asserting copyright infringement.
This litigation, commenced in the Southern District of Indiana, alleges that Defendant A1 Luxury Limousine of South Florida, Inc. of Boynton Beach, Florida infringed Bell's rights in a copyrighted photograph by using the photo on the company's website without having purchased a license from Bell.
The photo, titled "Indianapolis Nighttime Photo," has been registered with the U.S. Copyright Office under Registration No. VA0001785115. It was taken in 2000 and registered in 2011.
Bell lists claims of copyright infringement and unfair competition against A1. As with most or all of Bell's other Indiana lawsuits claiming infringement of his "Indianapolis Nighttime Photo" or his "Indianapolis Photo," this complaint further alleges that infringement is being willfully engaged in "with oppression, fraud, and malice."
Bell asks the court for injunctive relief, statutory damages, costs and attorneys' fees.
Practice Tip: We have blogged about Bell's Indiana copyright litigation in previous posts. See:
• Bell Sues Shuttered Auto Repair Shop for Infringing Copyrighted Photo
• Copyright Attorney Shifts to Alleging Infringement of Different Photo
• Attorney/Plaintiff Accuses Wisconsin Analytics Firm of Copyright Infringement
• Bell Names Aramark in Latest Copyright Infringement Lawsuit
• Attorney/Photographer Sues North Carolina Hotel Operator
• Attorney/Plaintiff Bell Files Three New Lawsuits Over Photo of Indianapolis Skyline
• Eight New Infringement Lawsuits Filed by Attorney/Plaintiff
• Attorney/Photographer Files Two New Infringement Lawsuits
• Lawsuit by Frequent Copyright Litigant Dismissed for Lack of Jurisdiction
• District Court Terminates Copyright Suit Over Photo; Plaintiff Appeals
• Remaining Copyright Defendants in Bell Lawsuit to be Dismissed
• Attorney/Photographer Sues Georgia Real Estate Company for Infringing Copyrighted Photo
• Sovereign Immunity May Take a Toll on Bell's Latest Copyright Lawsuit
• Appellate Court Dismisses Copyright Appeal as Premature
• Bell Rings in the Holiday Weekend with a New Copyright Lawsuit
• Bell Files New Copyright Infringement Lawsuit
• Bell Sues Georgia-Based FindTicketsFast.com for Copyright Infringement
• Richard Bell Files Two New Copyright Infringement Lawsuits
• Court Prevents Copyright Plaintiff Bell from Outmaneuvering Legal System; Orders Bell to Pay Almost $34,000 in Fees and Costs
• Three Default Judgments of $2,500 Ordered for Copyright Infringement
• Court Orders Severance of Misjoined Copyright Infringement Complaint
The case was assigned to Judge Sarah Evans Barker and Magistrate Judge Tim A Baker in the Southern District of Indiana and assigned Case No. 1:16-cv-02536-SEB-TAB.