Indianapolis, Indiana – In what has turned into a real "dog" of a case, Judge Jane E. Magnus-Stinson of the Southern District of Indiana has confirmed her ruling disqualifying the Barnes & Thornburg LLP ("B&T") law firm in a patent infringement suit. The disqualification bars B&T's from representing defendant Miller Veneers, Inc., based on B&T's "substantially related" earlier legal work for plaintiff Capital Machine Company, Inc. B&T had represented Capital for at least 20 years in the 1980's, 1990's and 2000's.
About a year after the suit was filed, B&T entered its appearance for Miller Veneers, and Capital promptly moved to disqualify B&T as counsel. Capital argued that five areas in which B&T had previously represented Capital were "substantially related" to the patent infringement issues with Miller Veneer. , Judge Jane E. Magnus-Stinson granted the Motion to Disqualify based on B&T's prior work for Capital "regarding employment matters generally, and specifically, as they relate to: (a) the ownership of inventions; and (b) Capital's employment relationship with Defendant Robert Brand." This decision is discussed here.
Unhappy with this ruling, Miller Veneers filed a motion for reconsideration of the disqualification order. In denying the motion for reconsideration, the Court not only confirmed that B&T's work regarding invention ownership and employment matters required disqualification, but so did other areas of work B&T had performed for Capital. These other areas included: patent prosecution, including a patent relating to a "Dog Systems;" Capital's assets, joint ventures, and acquisitions; and tax matters.
Interestingly, the infringed patents included those relating to a "dog system," and Miller Veneers had recently filed a claim construction statement arguing that "dogs" meant "mechanical devices having . . . a shape which . . . resembles that of a pin." However, B&T's work for Capital in the 1980's had included obtaining Patent No. 4,503,896, DOG SYSTEM FOR VENEER SLICER, (expired in 2002) which showed that the dogs could be rectangular and have teeth. Here are excerpts of Miller's claim construction statement and Capital's patent: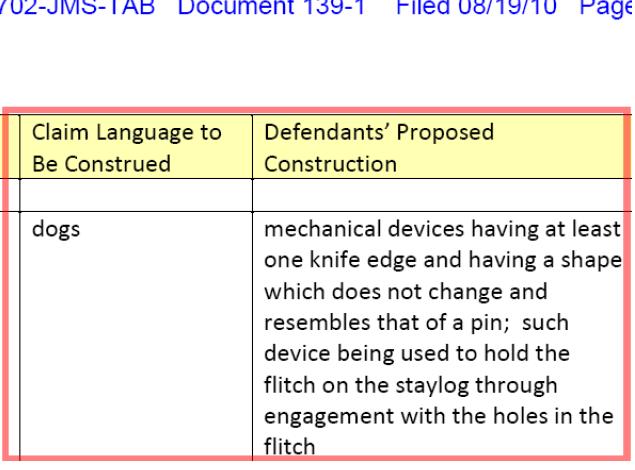 In commenting on this issue the court stated
"In this case, Miller, and thus B&T, are seeking to have "dogs" construed differently than the term is used in the original patent that B&T prosecuted. Miller argues this is a "red herring " and asserts that B&T should be able to argue that the term "means one thing in one patent and one in another patent, even where the prior patent was cited as prior art." But Miller omits a significant fact in its theory about B&T's purported freedom of argument – B&T is making the argument in support of a client in one circumstance and in opposition to that same former client in the second circumstance."
Practice Note: This ruling exemplifies how providing patent prosecution services can lead to disqualification in future matters involving similar technology for a different client. In 1984, B&T filed Capital's patent application for a "Dog System for Veneer Slicer" and the the resulting patent expired in 2002. However, Miller's decision to seek construction of the term "dog" as used in Capital's later patents made the present infringement suit "substantially related" to B&T's prior patent prosecution work for Capital, resulting in B&T's disqualification.
This Court's opinion elaborates on the Seventh Circuit's three-step analysis for disqualifying counsel in litigation generally, as articulated in La Salle Nat'l Bank v. County of Lake, 703 F.2d 252, 255 (7th Cir. 1983):
(1) Determining the scope of the prior representation;
(2) Asking whether "it is reasonable to infer that the confidential information allegedly given would have been given to a lawyer representing a client in those matters;" and if so,
(3) Asking whether that confidential information "is relevant to the issues" raised in the present action.
This opinion also illustrates the dangers of filing a motion for reconsideration. Sometimes, a ruling on a motion for reconsideration is not only denied, but includes more reasons why the original ruling was proper. This makes the ruling less likely to be overturned on appeal.
The patent litigation attorneys of Overhauser Law Offices, the publisher of this site, represented Capital Machine Company in obtaining disqualification of B&T. The Case No. is 1:09-cv-00702-JMS-DML, and the Order on the Motion for Reconsideration is below.