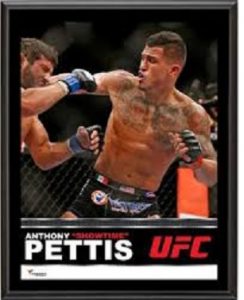 Fort Wayne, Indiana – Joe Hand Promotions, Inc. of Feasterville, Pennsylvania filed an intellectual property lawsuit in the Northern District of Indiana.
One business entity was sued in this Indiana litigation, Gum Dinger Slingers, LLC d/b/a Foxhole Pub at Norwood Golf Course of Warren, Indiana.  Also listed as Defendants were the following Indiana residents: Lee Cutting, Stephanie Cutting, Kevin Killen, Amanda Killen and Jason Kennedy.
Defendants are accused of unlawfully intercepting and broadcasting an "Ultimate Fighting Championship®" program that was broadcast on March 14, 2015.  The program, Ultimate Fighting Championship® 185: Pettis v. Dos Anjos, was broadcast exclusively on pay-per-view.
Joe Hand states that it held the exclusive commercial distribution rights to the broadcast of this program and that the business known as Foxhole Pub at Norwood Golf Course displayed the program in a commercial establishment without having obtained the proper license.  In addition to suing the limited-liability company that operates the Foxhole Pub, an Indiana intellectual property lawyer for Joe Hand has sued five individuals, stating that each was an officer, director, shareholder, owner, member and/or principal of the entity owning and operating the Foxhole Pub; that each individual had a right and ability to supervise the activities of the pub; and that each had an obvious and direct financial interest in the activities of the pub.
Plaintiff asserts that Defendants' conduct violated 47 U.S.C. § 605 or, in the alternative, violated 47 U.S.C. § 553.  It asks the court for statutory damages, interest, costs and attorneys' fees.