Indianapolis, Indiana – Plaintiff Newton Enterprises Ltd. of Kowloon, Hong Kong filed a lawsuit in the Southern District of Indiana alleging that Defendant Singleton Trading Inc. of Brooklyn, New York committed patent infringement.
In this Indiana litigation, Singleton Trading, which does business as Elama and Blue Spotlight, is accused of infringing U.S. Patent No. 7,568,720 (the "'720 Patent") for a "wheeled vehicle." The patent covers a wheeled vehicle, such as a tricycle, that can be folded from an in-use position to a storage position for ease of carrying.
Newton Enterprises claims that Singleton Trading has infringed and/or induced others to infringe the '720 Patent by "making, using, offering to sell, and/or selling in the United States, and/or importing into the United States, a foldable tricycle that practices at least one invention claimed in the '720 Patent." It lists as an example of such infringement Defendant's "Zoom Bike."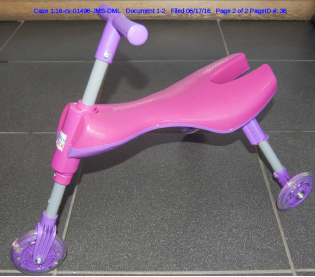 In a complaint filed by an Indiana patent lawyer, a single claim is made: "Infringement of '720 Patent." Plaintiff further claims that Defendant's infringement has been willful and deliberate, entitling Plaintiff to enhanced damages in addition to compensatory damages. Plaintiff also asks that the court award attorney fees and costs.
The case was assigned to District Judge Jane Magnus-Stinson and Magistrate Judge Debra McVicker Lynch in the Southern District of Indiana and assigned Case No. 1:16-cv-01496-JMS-DML.