Indianapolis, Indiana – Attorneys for Plaintiffs, Esther A.L. Verbovszky of Rocky River, Ohio and Hug Me Joey, LLC of Rocky River, Ohio, originally filed suit in the Northern District of Ohio. The case has since been transferred to the Southern District of Indiana alleging that Defendant, Dorel Juvenile Group, Inc. d/b/a Maxi-Cosi of Columbus, Indiana, infringed its rights in United States Patent No. 6,467,840 ("the '840 Patent") for a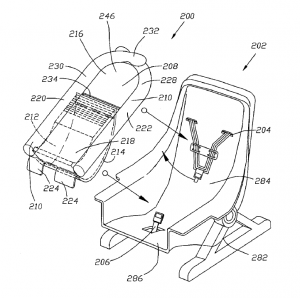 "Child's Car Seat Insert". Plaintiff is seeking preliminary and permanent injunctions, damages, an award of attorney's fees and costs, judgment, and prejudgment interest.
Plaintiffs have been designing and producing products to help infants breathe better, digest food easier, and improve comfort during travel since 1998. The '840 Patent was issued to Plaintiffs on October 22, 2002 for an insert to be used in a car seat for a tighter fit around the infant. Defendants are alleged to sell a group of products known as the Maxi-Cosi Mico Max 30 car seats, that are for use with small infants to achieve a snug fit, that infringe the '840 Patent. The sole claim of the Complaint is for direct and indirect patent infringement pursuant to 35 U.S.C. § 271.
The case was assigned to District Chief Judge Jane E. Magnus-Stinson and Magistrate Judge Doris L. Pryor in the Southern District and assigned Case 1:18-cv-03786-JMS-DLP.