Indianapolis, Indiana – Attorneys for Plaintiff, InVue Security Products Inc. of Charlotte, North Carolina, filed suit in the Southern District of Indiana alleging that Defendant, Mobile Tech, Inc. d/b/a Mobile Technologies Inc. and MTI, formerly known as Merchandising Technologies, Inc. of Hillsboro, Oregon, but incorporated in Indiana, infringed its rights in United States Patent No. 10,062,266, (the "'266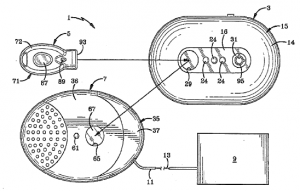 patent") for a "Programmable Security System and Method for Protecting Merchandise".   Plaintiff is seeking a permanent injunction, damages, judgment awarding InVue a reasonable royalty, prejudgment interest, and other relief the Court may deem just and proper.
Chief executive officers for both parties met in person on April 11, 2018 to discuss the defendant's Intellikey 3.0, its Gateway products, and other potentially infringing items "Accused Items". The plaintiff provided defendant with a copy of at least Claim 1 of the pending '266 patent, informing them that the Intellikey 3.0 would infringe the claims of the '266 patent when issued. The application for the '266 patent published on August 16, 2018 and the '266 patent issued on August 28, 2018, just before the Complaint was filed.
The first cause of action in the Complaint is for direct infringement of the '266 patent as MTI manufactures, offers for sale, sells, imports, and/or uses the Accused Items. Second, contributory infringement of the '266 patent is alleged as the Accused Items are not staple articles of commerce, are not suitable for a substantial non-infringing use, and are especially made or adapted for use in an infringement of the '266 patent. Third, infringement by inducement because the defendant sells the Accused Items to customers with the intent that they will use and operate them in a manner that infringes the '266 patent. Finally, plaintiffs claim that defendants should be held liable for pre-issuance damages as they were aware and had actual notice of the patent application after it published.
The case was assigned to Senior Judge William T. Lawrence and Magistrate Judge Doris L. Pryor and assigned Case 1:18-cv-02653-WTL-DLP.