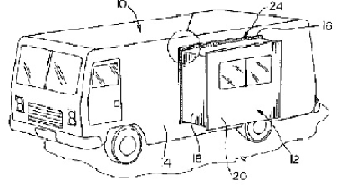 South Bend, Indiana – Plaintiff Lifetime Industries, Inc. ("LTI") of Elkhart, Indiana filed a patent infringement lawsuit in the Northern District of Indiana alleging that Defendant Trim-Lok, Inc. of Buena Park, California infringed Plaintiff's patent for a "Two-Part Seal for a Slide-Out Room."
The patent-in-suit, U. S. Patent No. 6,966,590 (the "'590 patent"), has been issued by the U.S. Patent and Trademark Office. Plaintiff states that it "currently produces, sells, and distributes two-part seals covered by the '590 patent" (collectively, "LTI Seals"), which are directed towards the addition of a slide-out room to a recreational vehicle. The LTI Seals include "a mounting portion and a separate bulb portion that slidably connects to the mounting portion."
Plaintiff asserts that Defendant makes, uses, sells, and offers for sale a seal that, once installed on a recreational vehicle, infringes one or more claims of the '590 patent. Plaintiff indicates that it discovered this alleged wrongdoing by Defendant during a visit to Forest River, Inc., a manufacturer of recreational vehicles and mobile living quarters.
Plaintiff also contends that Defendant's infringing behavior was knowing and intentional, citing in part two former LTI engineers who began work for Trim-Lok. These two engineers purportedly had knowledge of the '590 patent and LTI asserts that they "contributed to or designed" Defendant's accused product.
In this lawsuit, filed by Indiana patent attorneys, the following counts are listed:
• Direct Infringement of the '590 Patent
• Induced Infringement of the '590 Patent

• Contributory Infringement of the '590 Patent
Plaintiff seeks damages, including treble damages, along with equitable relief, costs and attorneys' fees.
Practice Tip: This is not the first instance of patent litigation between these parties. LTI sued Trim-Lok in 2013 alleging that Trim-Lok had infringed the same patent by offering another product.
The case was assigned to Judge Jon DeGuilio and Magistrate Judge Michael G. Gotsch, Sr. in the Northern District of Indiana and assigned Case No. 3:16-cv-00559-JD-MGG.