Indianapolis, Indiana – Attorneys for Plaintiff, Smart Solar Inc. d/b/a Smart Living Home & Garden of Libertyville, Illinois, filed suit in the Southern District of Indiana alleging that Defendant, Sky Billiards, Inc. d/b/a Best Choice Products of Irvine, California, infringed its rights in United States Patent No. 7,484,671 ("the '671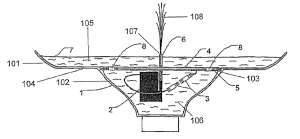 Patent") for "Water Feature". Venue was selected by the Plaintiffs as the Defendant is registered to do business in the State of Indiana, maintains a distribution facility in Indiana, and has allegedly committed acts of infringement in the Southern District of Indiana. Further, Defendants admitted in a separate action with the Plaintiff in Illinois that venue would be proper in the Southern District of Indiana. Plaintiff is seeking injunctive relief and judgment including statutory damages and attorneys' fees.
Smart Living designs, develops, and sells decorative birdbaths and fountains with solar water pumps. The '671 Patent was issued on February 3, 2009 to inventors Simon Howard Wigglesworth and Franz Roecker. It was then assigned to Smart Solar Limited, and Smart Living became the exclusive licensee.
Plaintiff alleges that the fountains and birdbaths sold by the Defendant are imitations of Smart Living's products and that they infringe the '671 Patent. Defendant has a long history of being sued for violations of intellectual property rights, which Smart Living believes to show a willful infringement of these rights. Best Choice makes, offers for sale, and/or imports four birdbaths and fountains that Smart Living believes infringe on its intellectual property rights. Plaintiff sent a letter informing Defendant of the '671 Patent on February 22, 2017, without any response. During litigation in Illinois, the Parties engaged in mediation on September 21, 2018, but settlement was not reached.
The single claim of the Complaint is for Federal Patent Infringement pursuant to the Patent Act, 35 U.S.C. § 101 et seq. Plaintiff alleges that Defendant's products directly infringe at least Claims 1-4, 6, 8, and 10-11 of the '671 Patent. Further, Defendant has indirectly infringed these same claims by actively inducing infringement after it had actual knowledge of the '671 Patent. Because of this knowledge of the '671 Patent and the continuing infringing acts, Plaintiff alleges Defendant's infringement is willful and deliberate.
The case was assigned to Chief Judge Jane E. Magnus-Stinson and Magistrate Judge Debra McVicker Lynch in the Southern District of Indiana and assigned Case 1:18-cv-03714-JMS-DML.