Indianapolis, Indiana – Attorneys for Plaintiff, Dexas International, LTD., of Coppel, Texas filed suit in the Southern District of Indiana alleging that Defendant, Menard, Inc., of Eau Claire, Wisconsin infringed its rights in United States Patent No. D563,739 ("the '739 Patent")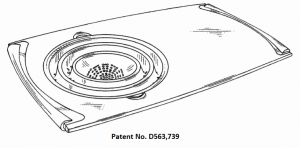 for "Cutting Board With Snap-In Pop Strainer". Plaintiff is seeking an injunction, lost profits, pre-judgment and post-judgment interest, attorneys' fees, and destruction of infringing items.
Plaintiff is a Texas-based corporation specializing in manufacturing kitchen gadgets and pet care items. Defendant is a Wisconsin-based corporation that owns and operates large-scale hardware and home improvement stores across the country.
According to the complaint, Plaintiff is the exclusive licensee of the above patent, which describes a plastic cutting board that includes a circular opening where the user can snap in a strainer. Plaintiff claims that Defendant is infringing the patent by marketing, importing, and/or selling an infringing cutting board that also contains an opening for a compatible strainer
Further, Plaintiff alleges that Defendant infringed a copyrighted photo of the cutting board that a Dexas employee created in 2013. The copyrighted photo shows the cutting board in a kitchen setting with vegetables in the strainer, with the cutting board perched over a sink. According to the complaint, the Defendant infringed the photo by creating a photo showing the infringing product in a similar setting, and inserting the infringing photo into the packaging of the infringing product.
While neither Plaintiff nor Defendant is based in Indiana, Plaintiff has asserted jurisdiction in Indiana because the Defendant operates stores in Indiana and is registered with the Indiana Secretary of State to do business in Indiana.
The case was assigned to Judge Tanya Walton Pratt and Magistrate Judge Matthew P. Brookman in the Southern District and assigned Case 1:18-cv-01105-TWP-MPB.