Indianapolis, Indiana – Attorneys for Plaintiff, The Trustees of Indiana University of Bloomington, Indiana,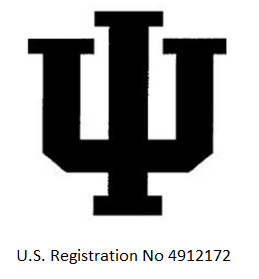 filed suit in the Southern District of Indiana alleging that Defendants, Mid-America Publishing, Inc., of  Spencer, Indiana and Terry R. Self of  Spencer, Indiana, infringed its rights in United States Trademark Registration Numbers 1,713,815, 4,912,172, 1,705,521, 2,868,784, 1,728,274, and 4,925,141 (collectively the "IU Marks"). The IU Marks were all instituted at different times, the earliest of which were used as early as 1975, and have been continuously used to date. Indiana University advertises and promotes the IU Marks and has spent a substantial amount of money to make the IU Marks inherently distinctive and easily recognizable. Plaintiff is seeking injunctive relief, judgment including statutory damages, and attorneys' fees.
As of the date of filing, Mid-America Publishing, Inc. ("Mid-America") was and had been administratively dissolved since July 15, 2010, according to the Indiana Secretary of State. Mr. Self is the sole officer and owner of Mid-America and as such directs all acts of Mid-America including producing, promoting, and selling posters, calendars, cards, and other printed materials. Previously, Mid-America began selling a poster of the Indiana University ("IU") Men's Basketball team with a listing of the games for their upcoming season. These posters included one or more trademarks owned by IU. Mid-America would customize these posters for local companies for them to pass out to as free promotional items.
Up until April 2012, there was an informal understanding between IU and Mid-America regarding the posters and the use of their trademarks. The parties' informal understanding was formalized in April of 2012 when they entered into a multi-year Marketing and Sponsorship Agreement. The use of the trademarks was non-exclusive and limited, and Mid-America agreed not to use any student-athlete's name or likeness without advance written approval from IU's Compliance Officer. Mid-America produced and sold the posters in accordance with this Agreement up until May 2, 2016 when IU informed Mid-America that it would not continue licensing to Mid-America. The term of the Agreement was extended by one year in which Mid-America was allowed to produce the poster for the 2016-2017 season, after it received approval for the artwork from IU.
While IU photographs its student-athletes for promoting its athletic programs and events, it has a policy to prohibit any profits being made from the use of a student-athlete's name, image, or likeness by IU or any third party. IU filed an expedited application with the United States Copyright Office to register their 2017-2018 IU Student-Athlete Photographs on October 3, 2018. The application has been registered as VA0002121460, but a Certificate of Registration had not been received by the Plaintiff as of the filing of the Complaint.
On October 9, 2017, Mr. Self on behalf of Mid-America, submitted an Application for License Agreement to IU to use the IU Marks in producing the 2017-2018 Mid-America IU Basketball Poster. The Application did not request to use any student-athlete names or likenesses, and the Trademark License Agreement provided by IU for consideration did not contain any license for the same. Mid-America executed the Trademark License Agreement on October 28, 2017. IU did not execute the agreement as it learned that Mid-America was already selling unapproved 2017-2018 IU Basketball Posters including the IU Marks, IU Student-Athlete Photographs, and the names of the student-athletes. After numerous attempts to contact Mid-America to resolve the situation, IU contacted the printers that Mid-America fraudulently induced to print the unapproved posters. The printers ceased printing the posters, agreed to destroy any they had remaining in their possession, and gave a quantity for how many they had already printed and delivered to Mid-America.
Despite all of the communication that was ignored by Mid-America for the 2017-2018 IU Basketball Poster production, Mid-America began producing and offering for sale its 2018-2019 version on August 29, 2018. Further, they are producing a Hoops Hysteria Handbook, which includes the schedule of each Division 1 college in Indiana, including IU's. The Handbook does contain IU Student-Athlete Photographs and is offered for "free" with each Mid-America IU Basketball Poster, but advertises may pay for their advertisement to be printed on the back for $0.20 per booklet. As such, IU is claiming, trademark infringement and counterfeiting, false and deceptive labeling, unfair competition, and copyright infringement.
The case was assigned to District Judge Jane Magnus-Stinson and Magistrate Judge Matthew P. Brookman in the Southern District and assigned Case 1:18-cv-03266-JMS-MPB.