Evansville, IN – Parents try to protect their children from playground hazards. Now there is a new threat to watch out for – patent infringement.
Patent lawyers for Plaintiff, INDIAN INDUSTRIES, INC. d/b/a Escalade Sports of Evansville, IN, have sued Defendant RAINBOW PLAYSYSTEMS, INC. of Brookings, South Dakota alleging it has infringed patent no. 8,002,642,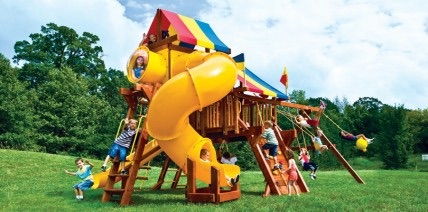 PLAYSET SYSTEM COMPONENTS, which has been issued by the US Patent Office.
The Complaint alleges that Rainbow's "Turbo Sunshine Castle, Turbo Sunshine Clubhouse, Rainbow Castle Supersized, and King Kong Quarter Turned Club Playsets" infringe Indian's "curved rail panels" feature. Although parents seek to protect their children from "playground injuries," Indian alleges that the accused playsets cause it "irreparable injury."
This case has been assigned to District Judge Richard L. Young in the in Southern District of Indianain Evansville Indiana, and assigned Cause No. 3:11 cv 0139 RLY-WGH.Complaint – Indian Industries v Rainbow
Further Information about the case is as follows:
Filed: November 3, 2011 as 3:2011cv00139 Updated: November 9, 2011 05:03:17
Plaintiff: INDIAN INDUSTRIES INC.
Defendant: RAINBOW PLAYSYSTEMS INC.
Presiding Judge: Richard L. Young
Cause Of Action: Patent Infringement