Indianapolis, Indiana — Royal Purple, LLC of Indianapolis, Indiana has sued Compressor Parts of Holland, Ohio; Michael Klipstein ("Klipstein") and Southern Parts & Engineering Company, LLC ("Southern Parts") of Alpharetta, Georgia (collectively, "Defendants") for infringement of the trademarks ROYAL PURPLE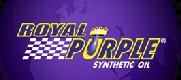 and SYNFILM, which have been registered by the U.S. Trademark Office.   
Royal Purple, which has also recently sued Liqui Moly, about which we blogged yesterday and previously, has filed an additional trademark-infringement suit in the Southern District of Indiana against Compressor Parts, Klipstein and Southern Parts. 
Royal Purple claims it has sold lubricants for more than 20 years and has trademarked the color purple, at least in conjunction with various lubricating oils.  It owns several federal trademark registrations for the color purple as applied to lubricating oils for automotive, industrial and household uses.  It also owns multiple trademarks incorporating the word "purple" as applied to various goods.  It also owns a trademark for the term "Synfilm," for synthetic, para-synthetic and hydrocarbon lubricants for industrial uses.  These trademarks are registered with the U.S. Trademark Office. 
Purple was chosen for its association with royalty.  (Historically, purple dye was so expensive to produce that it was used only by royalty.)  Royal Purple's purple-identified lubricant products are sold in over 20,000 retailers in the United States and Royal Purple claims a strong secondary meaning and substantial goodwill in its trademark as a result of this use.
In this complaint, trademark lawyers for Royal Purple assert that Defendants offer goods on the compressorparts.com website using Royal Purple marks in a manner that is likely to cause a substantial number of ordinary consumers to be mistaken, confused or deceived into thinking that Defendants' goods are offered by or affiliated with Royal Purple.  The complaint includes the following:
·         Count I: Federal Trademark Infringement
·         Count II: False Designation of Origin/False Advertising
·         Count III: Unfair Competition Under Indiana Common Law
·         Count IV: Common Law Trademark Infringement
Royal Purple seeks a permanent injunction; an accounting; damages, including punitive damages; interest; costs and attorneys' fees.
Practice Tip: As part of the claim, Royal Purple's lawyers included a count of trademark dilution.  This cause of action is distinct from trademark infringement and applies to trademarks that are deemed to be famous.  An action for dilution can assert either, or both, of two principal harms: blurring and tarnishment.  Dilution by blurring, codified in 15 U.S.C. 1125(c)(2)(B), arises when association with another similar mark causes the distinctiveness of the famous mark to be compromised.  In contrast, dilution by tarnishment under 15 U.S.C. § 1125(c)(2)(C) happens when the reputation of the famous mark is damaged by association with a similar mark. 
This case has been assigned to Judge Jane E. Magnus-Stinson and Magistrate Judge Tim A. Baker of the Southern District of Indiana, and assigned case no. 1:13-cv-100-JMS-TAB.