Indianapolis, IN – Trademark lawyers for Saeilo Enterprises, Inc. of Pearl River, New York filed a trademark infringement suit alleging Buzz Bee Toys, Inc. of Mt. Laurel, New Jersey infringed the following trademarks: Trademark Registration No. 2,885,628 for the mark TOMMY GUN filed with the US Trademark Office and Indiana State Registration No. 20090707-13956, Registration No. 20090707-13957, and Registration No. 20090707-13958 for the TOMMY GUN design marks filed with the Indiana Secretary of State.
Saeilo originally filed the lawsuit in Hamilton County Superior Court. Trademark attorneys for Buzz Bee, however, successfully moved to remove the case to federal district court, noting that federal court has jurisdiction due to the federal trademark claim and the diversity of the parties. According to the complaint filed by Saeilo, Buzz Bee offers for sale toy guns using the words "Tommy" on the packaging.
The complaint states that the infringing conduct occurred in Hamilton County, Indiana, but does not specify when or where. Saeilo has attached pictures of the toy guns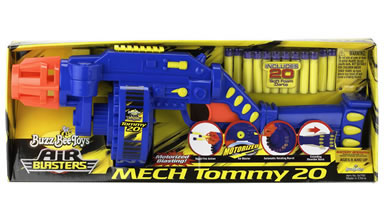 and packaging that appear to be in store and being offered for sale. Pictures of the allegedly infringing toy guns are also online, but the complaint does not make reference to Buzz Bee's website. Saeilo's complaint asserts claims of federal trademark infringement, federal trademark dilution, false designation of origin, false advertising, trade dress infringement, common law trademark infringement, unfair competition, conversion, forgery, counterfeiting, and deception. The complaint seeks a permanent injunction, damages, treble damages, profits, attorney's fees and costs.
Practice Tip: The complaint was signed by a lawyer at Continental Enterprises, which is an Indianapolis corporation that claims to "non-traditional strategies to combat infringers domestically and around the globe and provide effective solutions for seemingly intractable IP problems." Continental Enterprises, however, has recently been the subject of highly critical press coverage. For example, one website accused the company of "using untrained staff to troll the internet for victims."
This case has been assigned to Judge Tanya Walton Pratt and Magistrate Judge Mark J. Dinsmore in the Southern District of Indiana, and assigned Case No. 1:11-cv-00751-TWP-MJD.
Further Information about the case is as follows:
Filed: June 3, 2011 as 1:2011cv00751 Updated: June 7, 2011 05:00:11
Plaintiff: SAEILO ENTERPRISES, INC.
Defendant: BUZZ BEE TOYS, INC.
Presiding Judge:Tanya Walton Pratt
Referring Judge:Mark J. Dinsmore
Cause Of Action: Petition for Removal
Court:Seventh Circuit > Indiana > Southern District Court
Type:Intellectual Property > Trademark