Indianapolis, Indiana – Apparently, Amy Haehl ("Haehl"), the Plaintiff, is a nationally renowned photography that promotes her work through her photography studio, Coffee Creek Studio. Haehl claims she first gained national notoriety in 2018 after she recreated scenes from "A Christmas Story" featuring a baby wearing pink bunny pajamas. Her work has apparently been featured on "Fox & Friends" and the websites for the "Today" show and "Good Morning America."
Haehl claims that she drew inspiration from her previous success with using model babies to use photo editing software to add teeth to her infant subjects. According to the Complaint, she registered a series of those images with the U.S. Copyright Office as Group Reg. No. VA0002191510. Further, Haehl claims she posted a copyright notice alongside each photograph posted on her Facebook page.
Defendant, Dr. Brite, LLC ("Dr. Brite"), is apparently in the business of selling teeth whitening and other oral care products. Haehl claims Dr. Brite used one of her copyrighted photographs to advertise Dr. Brite's products as shown below (the "Dr. Brite Post").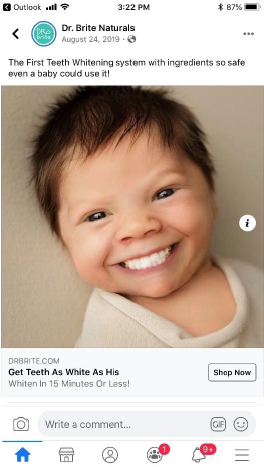 While Haehl's watermark appears to have been cropped out of the Dr. Brite Post, she contends it clearly incorporates the registered photograph. Additionally, the Dr. Brite Post contained an interactive "shop now" button which is claimed to allow consumers to purchase Dr. Brite's products. Therefore, Haehl is seeking damages for direct copyright infringement in violation of 17 U.S.C. § 106. Haehl is further claiming vicarious copyright infringement and removal or alteration of copyright management information. The latter of which is a violation of 17 U.S.C. § 1202(b).
The case was assigned to Judge James Patrick Hanlon and Magistrate Judge Mark J. Dinsmore in the Southern District of Indiana and assigned Case No. 1:21-cv-02072-JPH-MJD.