Indianapolis, IN – Magistrate Judge Debra McVicker Lynch of the Southern District of Indiana has issued a decision in a discovery dispute in a copyright infringement lawsuit. Intellectual property attorneys for Kevin B. McCarthy of Indianapolis, Indiana, Albert H. Langsenkamp, Carmel, Indiana and BVM Foundation, Inc. of Batesville, Indiana had filed a lawsuit in the Southern District of Indiana making several claims against that Patricia Ann Fuller, also known as Sister Joseph Therese of Fostoria, Ohio and John Doe of Ohio. Ms. Fuller apparently has counterclaimed claiming trademark and copyright ownership of the copyrighted work OUR LADY OF AMERICA. Ms. Fuller apparently operates the website www.ourladyofamerica.com.
The Our Lady of America copyrighted works are drawings and statutes based upon a nun's visions of the Virgin Mary that began in the 1950s. According to the complaint filed in the case, Ms. Fuller claims she owns the copyright to one of the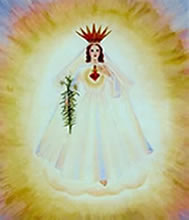 Our Lady of America statute and the parties dispute the ownership. The plaintiffs disagree and believe Ms. Fuller is making numerous misrepresentations regarding the works and is fraudulently representing herself as the owner of the works and marks. In the original complaint, the plaintiffs made claims of defamation, intentional infliction of emotional distress, fraud, deception, theft, criminal conversion, and civil conspiracy. It appears that Ms. Fuller is claiming copyright and/or trademark rights to the images and statutes. The court's discovery orders require her to disclose information such as "how the representation of the Virgin Mary was being used as a trademark in 1960.
Practice Tip: It appears that Ms. Fuller provided vague answers to numerous interrogatories sent to her. Federal Rule of Civil Procedure 26(e)(1)(A) requires parties to supplement their answers to discovery questions when the party learns that an answer provided is incomplete or incorrect.

This case was assigned to Magistrate Judge Debra McVicker LynchSouthern District of Indianaand assigned Case No. 1:08-CV-994-WTL-DMLOrder on Plaintiffs Motion to Compel