Indianapolis, IN – Patent attorneys for Syndicate Sales, Inc. of Kokomo, Indiana filed a patent infringement suit in the Southern District of Indiana alleging Hill's Import, Inc. of Quakertown, Pennsylvania infringed design patent no. D652,342, Plateau vase with constant size neck, known as the "Harshman patent, "which has been issued by the US Patent Office.
The complaint states that the patented vase design was created by artist Trent Harshman, who has assigned all his rights to Syndicate. Syndicate's complaint states that Hill's has never been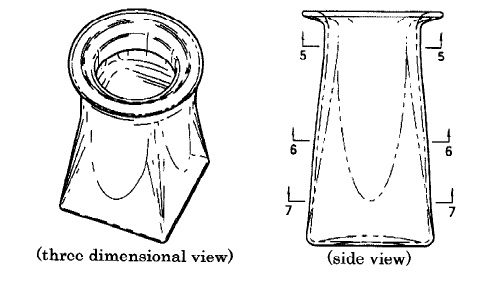 granted any rights to sell or import the patented vase design. The complaint alleges that Hill's infringed the patent by importing and selling vases that utilized the patented design. Syndicate's patent attorneys have alleged that the vases in question were manufactured in by Shangdong Yiyaun Oking Glassware Company in China. Syndicate is seeking a declaration of infringement, an injunction, damages, attorney fees and costs.
Practice Tip: Syndicate Sales' patent purports to cover a vase having a square bottom that morphs into a rounded top with a flange. This would seem to be a common shape, and, if Hill's import does not get the case dismissed on jurisdictional ground, it can be expected to attack the validity of the patent on grounds of "obviousness." Also, the complaint alleges that the vases Hill's allegedly sold came from a factory in China and include Syndicate's UPC code. This raises an issue of whether the Chinese factory had been authorized by Syndicate to make the vases. If so, Hills may have license defense. Alternatively, Hill's may be entitled to be indemnified by its alleged Chinese supplier.

This case has been assigned to Chief Judge Richard L. Young and Magistrate Judge Debra McVicker Lynch in the Southern District of Indiana, and assigned Case No. 1:12-cv-00063-RLY-DML.Syndicate Sales Complaint
Further Information about the case is as follows:
Filed: January 17, 2012 as 1:2012cv00063 Updated: January 18, 2012 00:06:15
Plaintiff: SYNDICATE SALES, INC.Defendant: HILL'S IMPORT, INC.Presiding Judge: Richard L. YoungReferring Judge: Debra McVicker LynchCause Of Action: Patent InfringementCourt: Seventh Circuit > Indiana > Southern District CourtType:Intellectual Property > Patent