Northern District of Indiana –Apparently, EZ Tankless, Inc. ("EZ Tankless"), the Plaintiff, sells water heaters throughout the world. EZ Tankless also claims to own the trademark for EZ TANKLESS under U.S. Registration No. 5,502,206 (the "Registered Mark"), which has been used in connection with its tankless water heaters since July 2009. According to the Complaint, Noritz America Corporation ("Noritz"), the Defendant, "is one of the world's largest manufacturers of gas-fired baths and hot water heaters."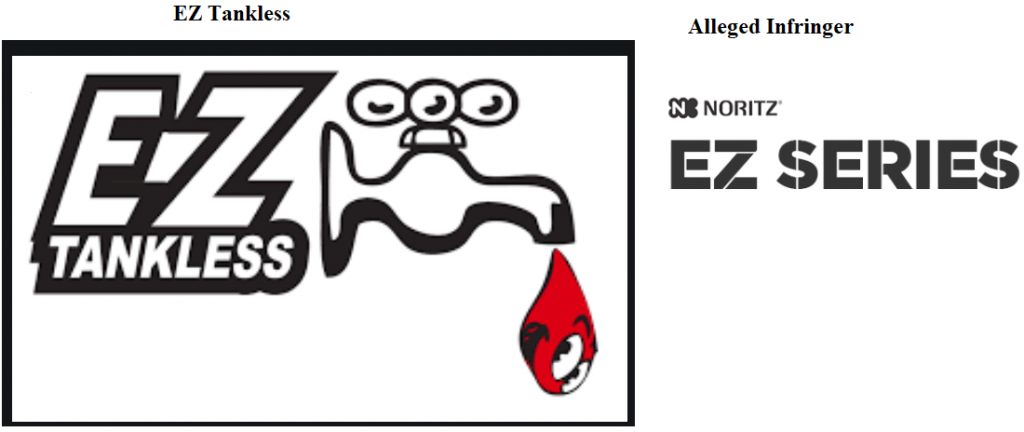 EZ Tankless claims Noritz adopted a confusingly similar mark to the Registered Mark and has been using that mark in connection with Noritz's EZ Series tankless water heaters since April 2017. Per the Complaint, Noritz applied for and was granted registration for its trademark EZ SERIES under U.S. Registration No. 5,731,024 in connection, in relevant part, with tankless water heaters. Noritz was also apparently granted a trademark registration for EZTR under U.S. Registration No. 4,800,941 with a date of first use on October 31, 2014.
According to the Complaint, EZ Tankless contacted Noritz on multiple occasions through counsel to request Noritz cease use of the EZ related marks. However, Noritz apparently continued to use the marks. Therefore, EZ Tankless is seeking damages for trademark infringement pursuant to the Lanham Act, common law trademark infringement, and common law unfair competition. Additionally, EZ Tankless is seeking to cancel both the EZ SERIES and EZTR marks as it contends they were granted registration based on false representations.
The case was assigned to District Judge Theresa Lazar Springmann and Magistrate Judge John E. Martin in the Northern District and assigned Case 4:20-cv-00062-TLS-JEM.