Hammond, Indiana – Attorneys for Plaintiff, FAM N.V. ("FAM") of Belgium, filed suit in the Northern District of Indiana alleging that Defendant, Urschel Laboratories, Inc. ("Urschel") of Chesterton, Indiana, infringed its rights in United States Patent No. D730,703 (the "D'703 Patent") entitled "Knife Holder". FAM is seeking judgment, consequential and compensatory damages, attorneys' fees and costs, pre-judgment and post-judgment interest, and any other relief the Court deems proper.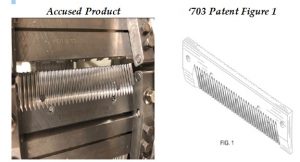 FAM claims to be a world leader in designing, developing, and manufacturing of cutting solutions for the food industry. According to the Complaint, the D'703 Patent was issued to Brent L. Bucks on June 2, 2015 and was later assigned to FAM. FAM alleges the "25883 Urschel® USA" product is an example of a knife holder that has infringed the D'703 Patent. Further, FAM claims Urschel's alleged infringement of the D'703 Patent is "willful, deliberate, and objectively reckless." As such, FAM is seeking damages pursuant to 35 U.S.C. § 284 or 35 U.S.C. § 289, and is requesting the case be considered "exceptional" under 35 U.S.C. § 285.
The case was assigned to Chief Judge Theresa Lazar Springmann and Magistrate Judge, John E. Martin in the Northern District and assigned Case 2:19-cv-00439-TLS-JEM.