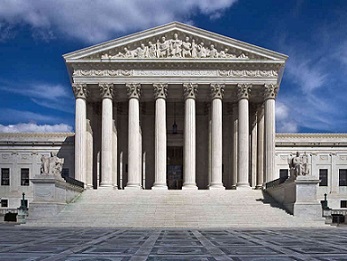 Washington, D.C. -The United States Supreme Court has agreed to hear appeals in two separate lawsuits, Halo Electronics, Inc. v. Pulse Electronics, Inc., et al., Case No. 14-1513, and Stryker Corp, et al. v. Zimmer, Inc., et al., Case No. 14-1520, on the issue of willfulness as a prerequisite for awarding enhanced damages in patent infringement litigation. The two cases were consolidated.
Under 35 U.S.C. § 284 of the Patent Act, a district court "may increase … damages up to three times the amount found or assessed." Despite this language, which on its surface is permissive and discretionary, the Federal Circuit imposes a stricter test. For a district court to award enhanced damages under § 284, this test requires that a patentee prove by clear and convincing evidence that infringement was "willful." A determination of willfulness requires a finding of both (1) an objectively high likelihood that the infringer's actions constituted infringement, and (2) that this likelihood was either known or so obvious that it should have been known to the accused infringer.
The questions presented to the Supreme Court are:
1. Has the Federal Circuit improperly abrogated the plain meaning of 35 U.S.C. § 284 by forbidding any award of enhanced damages unless there is a finding of willfulness under a rigid, two-part test, when this Court recently rejected an analogous framework imposed on 35 U.S.C. § 285, the statute providing for attorneys' fee awards in exceptional cases?
2. Does a district court have discretion under 35 U.S.C. § 284 to award enhanced damages where an infringer intentionally copied a direct competitor's patented invention, knew the invention was covered by multiple patents, and made no attempt to avoid infringing the patents on that invention?
The Court granted motions by Independent Inventor Groups and Nokia Technologies OY, et al. to file briefs as amici curiae.
Practice Tip: In December 2014, the Federal Circuit overturned the decision of the Western District of Michigan to triple the damages awarded to Stryker, reducing the amount from $228 million to $70 million.
Case Nos. 14-1513 and 14-1520 were consolidated.