WASHINGTON, D.C. – The federal government's annual employee survey finds that the USPTO tops the list of 371 federal agency subcomponents.

The U.S. Department of Commerce's United States Patent and Trademark Office ("USPTO") was named number one out of 300 agency subcomponents in the 2013 Best Places to Work in the Federal Government rankings released recently by the non-profit Partnership for Public Service ("PPS"). The annual report is based on a survey of more than 700,000 civil servants from 371 federal agencies and subcomponents conducted in 2013 by the Office of Personnel Management ("OPM"). The USPTO has consistently risen in the Best Places to Work rankings since 2009, ranking fifth in its category last year.
"This is a tremendous tribute to the tireless dedication of our hardworking employees, unions, and agency leaders," said Commissioner for Patents Margaret A. (Peggy) Focarino (pictured below). "Our employees have faced significant challenges, including the impact of budget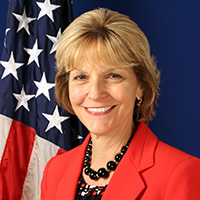 sequestration despite being a fully fee-funded agency, and the completion of our implementation of the Leahy-Smith America Invents Act, the most sweeping overhaul of our nation's patent system in generations. Yet despite those challenges we maintained our upward momentum in being recognized by our employees as a Best Place to Work in the federal government."
One large component of USPTO's success has been its highly successful telework program, which the PPS recognized with a 2012 nomination for its annual Samuel J. Heyman Service to America awards (the Sammies). The agency's telework program improved flexibility in employee work location, reduced examiner turnover to historically low levels, increased examiner productivity, and saved the agency millions each year in overhead costs.
Building collaborative team-based approaches to projects and increasing technical and leadership training opportunities have also improved the morale and effectiveness of USPTO's highly talented workforce. Earlier this year, Commissioner Focarino was named as a 2013 Sammie nominee for coordinating USPTO senior leadership in working with the Patent Office Professional Association ("POPA") union to negotiate and implement historic changes at the agency. These changes give patent examiners more time and flexibility, provide new performance requirements for examiners and managers, and increase employee training and leadership development opportunities.
Over the last two years, the USPTO's Creativity and Innovation Challenge has helped improve operations through collaboration and idea-sharing between the agency and its employees. Developed in partnership by USPTO management, POPA and other unions – the National Treasury Employee Union, Chapter 243 (NTEU 243), and Chapter 245 (NTEU 245) – the challenge established an interactive employee forum encouraging employees to submit and vote on innovative ways to improve the agency.
PPS based its rankings on the 2013 Federal Employee Viewpoint Survey ("EVS"), released in November 2013 by OPM. That survey showed the USPTO with a 73 percent participation rate, and its scores increased across all of the categories measured by the survey – including areas like Effective Leadership and Strategic Management – demonstrating sustained progress during a time of ongoing challenges to employee engagement and satisfaction. Agency leadership is examining EVS category results in depth in order to expand and build on this success.