WASHINGTON, D.C. – USPTO officials will discuss the First Inventor to File provision of the America Invents Act.
The U.S. Department of Commerce's United States Patent and Trademark Office ("USPTO")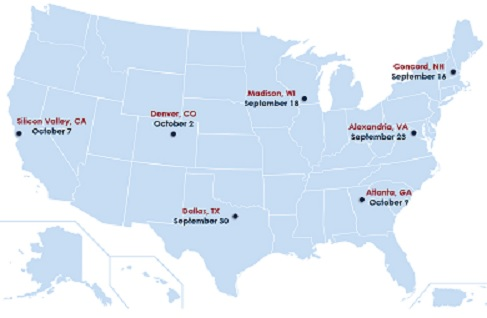 announced this week that it will host seven roadshows across the country between September 16 and October 9, 2014. These events are designed to increase understanding of the First Inventor to File ("FITF") provisions of the America Invents Act ("AIA"). The public meetings will serve as an opportunity for USPTO subject-matter experts and stakeholders to discuss the FITF provisions and updates since its implementation in March 2013.
The USPTO hopes to broaden public knowledge of the FITF provisions and increase understanding of the provision's administrative processes to aid inventors and their representatives in the filing and prosecuting of patent applications under the FITF system. At each roadshow, panelists will discuss:
• FITF statistics to date,

• the applicability of the FITF provisions on patent applications filed today,

• the FITF statutory framework and its exceptions, and

• AIA evidentiary declaration practice useful to invoke these exceptions.
The experts will present a variety of sample scenarios to illustrate both the applicability of the FITF provisions as well as tips for prosecuting applications filed under the FITF provisions.
The roadshow series will begin on September 16, the third anniversary of the signing of the Leahy-Smith America Invents Act, and run through October 9, 2014. It will stop in Concord, New Hampshire; Madison, Wisconsin; Dallas, Texas; Silicon Valley, California; and Atlanta, Georgia, as well as on USPTO campuses in Alexandria, Virginia, and Denver, Colorado. The roadshows in Alexandria on September 23 and Denver on October 2 will be webcast live through the USPTO website.
The half-day agenda for each stop will be:
Introductory Remarks (10 min)
FITF – A Year Plus In Review (20 min)
• Review of examiner training

• Statistics to date
Will My Application Be Examined Under AIA (FITF) Or Not? (75 min)
• 1.55/1.78 statements

• The power of the ADS

• Have you checked your filing receipt?

• Scenarios
Break (15 min)
FITF Overview and Tips on Responding to Prior Art Rejections (60 min)
• 35 USC 102(a)(1) and 102(a)(2) – bases for rejections

• 35 USC 102(b)(1) and 102(b)(2) – exception provisions

• Scenarios
Effective Use of AIA (FITF) Evidentiary Declarations (45 min)
• 37 CFR 130(a) and 130(b)

• Scenarios
Tour of the AIA (FITF) Website and Q&A (15 min)
Practice Tip:
The roadshow events are free and open to the public. Seating is available on a first-come, first-served basis. For more information, including roadshow logistics, venues, and webcast access information, please refer to the AIA roadshow page on the USPTO website.
Further information is also available from Kathleen Bragdon via email at Kathleen.Bragdon@uspto.gov.