Alexandria, Virginia – Administrative Patent Judges will share information and collect public input about inter partes review and covered business method review proceedings.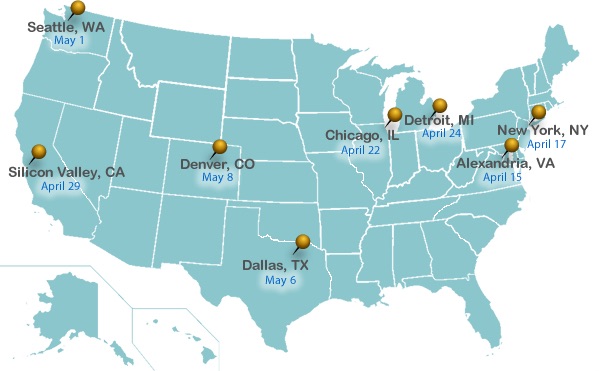 Washington – The U.S. Department of Commerce's United States Patent and Trademark Office ("USPTO") announced this week that it will host a series of roundtables across the country to educate the public and collect feedback about the America Invents Act ("AIA") trial proceedings. The series will begin on April 15 and run until May 8, 2014, with roundtables in Alexandria, VA; New York City; Chicago; Detroit; Silicon Valley; Seattle; Dallas; and Denver. The roundtables provide an opportunity to bring stakeholders together with USPTO administrative patent judges to discuss the inter partes review and covered business method review proceedings.
"These roundtables are a part of USPTO's ongoing efforts to provide more opportunities for the public and other key stakeholders to share ideas, feedback, experiences and insights on additional ways we can improve our processes," said Deputy Under Secretary of Commerce for Intellectual Property and Deputy Director of the USPTO Michelle Lee.
The roundtables will begin with a lecture focused on the trial process, lessons learned, and previously unreleased statistics about AIA trial filings. The roundtables also will feature mock conference calls targeted on motions for additional discovery and claim amendments. During these mock conference calls, administrative patent judges will identify successful techniques for winning a motion as well as points for improvement. The roundtables will conclude with a panel discussion with administrative patent judges and local practitioners with knowledge and experience with AIA trials. The panel discussion will delve into all aspects of the AIA trials, and the public will have the opportunity to give input throughout the discussion.
Participation in the roundtables is free and open to the public. Seating is available on a first-come, first-served basis. The roundtables in Alexandria, VA on April 15 and Denver on May 8 will be webcast live through the USPTO website. More details about the roundtable logistics, venues, and webcast access information will be available on the Patent Trial and Appeal Board (PTAB) roundtable landing page.
Anyone with non-press inquiries may contact Janet Gongola via email at Janet.Gongola@uspto.gov.
Practice Tip: The Board Trial Rules and Practice Guide can be found here.