Indianapolis, Indiana – Vera Bradley Designs, Inc. ("Vera Bradley") the Plaintiff, claims to have more than 1,100 copyright registrations for its unique fabric designs, 17 of which are at issue in this case (the "Vera Bradley Works"). Vera Bradley claims to sell eyeglasses, sunglasses, and cases bearing the Vera Bradley Works.
According to the Complaint, Dollar Tree Stores, Inc. ("Dollar Tree") and Greenbrier International, Inc. ("Greenbrier"), the Defendants, sell eyeglasses and related accessories that allegedly infringe the Vera Bradley Works. Vera Bradley claims after it sent a cease and desist letter to Dollar Tree, Dollar Tree stated it was unable to remove the alleged infringing products from its stores. Further, Vera Bradley claims Greenbrier sourced and/or imported the alleged infringing products.
Vera Bradley is claiming copyright infringement against both Defendants and vicarious and contributory copyright infringement against Greenbrier pursuant to 17 U.S.C. § 501. Vera Bradley further claims Dollar Tree participated in unfair and deceptive trade practices in violation of I.C. § 24-5-0.5-03.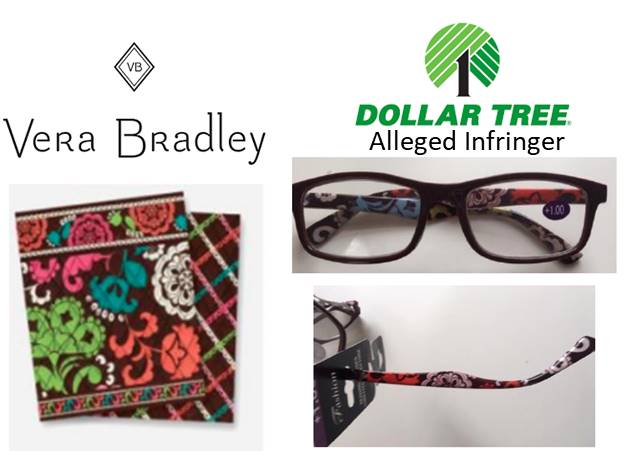 The case was assigned to District Judge Holly A Brady and Magistrate Judge Susan L Collins in the Northern District and assigned Case 1:20-cv-00338-HAB-SLC.