Indianapolis, Indiana – Wounded Warrior Project, Inc. ("WWP") of Jacksonville, Florida has sued in the Southern District of Indiana alleging that Dean M. Graham and Help Indiana Vets, Inc. ("HIVI"), both of Acton, Indiana, defamed WWP. The lawsuit also asserts that HIVI engaged in false advertising and unfair competition. While this suit did not allege trademark

infringement, it included references to WWP's trademark, U.S. Trademark Registration No. 30014447, which has been registered by the U.S. Trademark Office.
WWP is a Virginia nonprofit corporation, which has been registered with the Internal Revenue Service ("IRS") as a 501(c)(3) nonprofit organization. It was founded in 2003 as a small nonprofit corporation to provide comfort items to service members injured in combat after September 11, 2001. In the years which followed, WWP grew into a complete rehabilitative effort to assist service members injured in combat with both visible and invisible injuries (such as post-traumatic stress disorder, combat and operational stress, and depression) as they recover and transition back to civilian life.
HIVI is believed to be an Indiana nonprofit corporation. WWP indicates that HIVI was founded in April 2013 by Graham. WWP asserts that HIVI's business is to offer financial help to Indiana veterans through donor support as a nonprofit. As such, WWP contends, HIVI is a direct competitor of WWP.

WWP asserts that, over the last decade, it has invested substantial time and resources to develop the WWP mark through national direct-mail campaigns, marketing, corporate product promotions and press releases. WWP indicates that it has received substantial national and local press coverage for its efforts. It claims that its success is due in no small part to the support of the media and celebrities who support WWP. Finally, WWP indicates that, over the last decade, it has received approximately 30 billion media impressions with an estimated publicity value of $500 million. WWP claims that, due to its efforts, the WWP mark has become famous.
This suit is founded upon, inter alia, WWP's contentions that HIVI published false and misleading statements of fact regarding WWP. The assertions allegedly made by HIVI included that Wounded Warrior Project is a fraud and that it is pulling the biggest "Oke Doke" ever pulled on the American public. WWP contends that, on the page containing the purportedly false and misleading statements about WWP, a PayPal link is included so that users of the HIVI site may make charitable donations to HIVI.
WWP further alleges that HIVI has contacted numerous government entities and officials, as well as multiple media outlets, claiming that WWP is a fraud.
Trademark attorneys for WWP assert the following in their complaint against Graham and HIVI:
• Count I: False Advertising – Lanham Act
• Count II: Criminal Deception – Indiana Crime Victims Act
• Count III: Defamation – Indiana Common Law
• Count IV: Unfair Competition – Indiana Common Law
• Count V: Tortious Interference with Business Relationships – Indiana Common Law
• Count VI: Unjust Enrichment – Indiana Common Law
WWP asks the court for a permanent injunction; treble damages under the Indiana Crime Victims Act; an order compelling Defendants to disgorge all financial benefits realized as a result of the alleged wrongful conduct; and an award of costs and attorneys' fees.
Practice Tip: Paul Overhauser was interviewed regarding this unusual lawsuit between nonprofit entities. See here.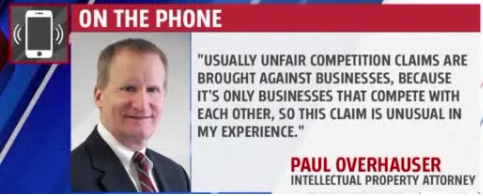 This complaint was filed by Jessica M. Lindemann of Barnes & Thornburg LLP and John P. Passarelli, Matthew S. Noren, and Maggie L. Cox, all of Kutak Rock LLP. The case was assigned to Chief Judge Richard L. Young and Magistrate Judge Debra McVicker Lynch in the Southern District of Indiana and assigned Case No. 1:13-cv-01857-RLY-DML.