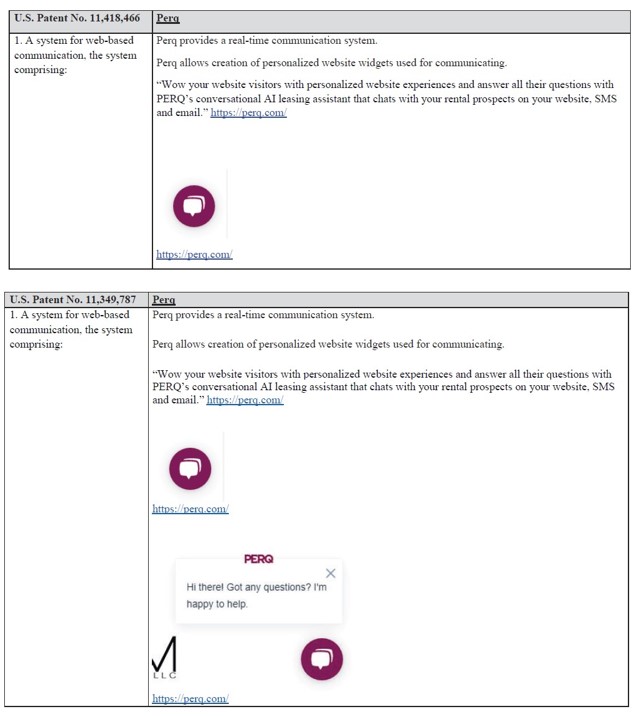 Indianapolis, Indiana – Plaintiff, Disintermediation Services, Inc. (DSI) filed suit against Plaintiff, Perq Software, LLC for Patent Infringement.
DSI is a company that develops and sells software that supports omnichannel communications. DSI built implementations of its products on both Amazon Web Services and Microsoft Azure. Since launching their website in 2011, Disintermediation has handled over one million chat messages.
The Defendant, Perq Software, LLC ("Perq"), according to their website, was founded in 2008 by Andy Medley and Scott Hill, two Harvard Business School alumni set out to untangle a big, hairy problem with multifamily. The PERQ platform combines AI leasing assistant automation with powerful website conversion tools.
According to the Complaint, DSI's software includes numerous technological improvements that were captured in a family of patent applications. In 2022 the United States Patent and Trademark Office issued Patent No. US11349787 and US11418466 entitled "Two-Way Real Time Communication System That Allows Asymmetric Participation In Conversations Across Multiple Electronic Platforms."  The limitations from the patents comprise various elements that coordinate the seamless communication between a web user and responders.  The Patents-In-Suit Family have been cited in at least 53 patent applications, including applications filed by Microsoft, IBM, Intuit, T-Mobile, Sony, and Ericsson.  Among the at least 53 patent applications, the USPTO has issued more than 34 patents.
The lawsuit claims that Perq has contributed  and is contributing to the infringement of the above mentioned patents under 35 U.S.C. § 271, either literally and/or under the doctrine of equivalents, directly and/or indirectly.  Allegedly, Perq's software uses similar techniques for collecting information about website visitors and displaying targeting content, which violates DSI's patents.
Therefore, the Plaintiff, DSI is seeking declaratory judgments, damages in accordance with 35 U.S.C. § 284, pre-judgment and post-judgment interest, attorney fees and a compulsory ongoing license fee.
Patent infringement cases can be complex, and the outcome can have significant implications for both the patent owner and the accused party. It is, therefore, crucial for both parties to have competent legal representation and to carefully consider their options throughout the litigation process.
The case was assigned to Chief Judge Tanya Walton Pratt and Magistrate Judge Kellie M. Barr in the Indianapolis Division of the Southern District of Indiana and assigned Case No. 1:22-cv-02280-TWP-KMB.