Indianapolis, Indiana – Ambre Blends, LLC of Fishers, Indiana has filed a trademark infringement lawsuit in the Southern District of Indiana alleging that doTERRA, Inc., doTERRA International, LLC, both of Orem, Utah (collectively, "doTERRA") and Kerry Dodds d/b/a Kerry Essentials of Indianapolis, Indiana ("Kerry") infringed SOLACE®, Trademark No. 4266473, which has been registered by the U.S. Trademark Office.

In its complaint, Ambre Blends claims to have been producing organic body products since 2001. It offers four fragrances which are designed to be worn by both women and men. Founded in 2008, doTERRA offers essential oils both as single oils and as proprietary essential oil blends via independent product consultants. Both companies claim rights in the mark "Solace" in connection with essential oil products.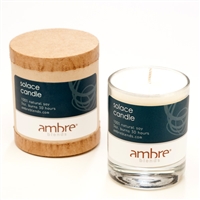 Ambre Blends asserts that it has used the Solace mark continuously in commerce since at least as early as February 2007. It holds a federally registered trademark on the mark in connection with "Aromatic preparations, namely, oils, body creams, body sprays, soaps, shower gel; Beauty creams; Body and beauty care cosmetics; Body cream; Body sprays; Essential oils for use in aromatherapy; Essential oils for use in manufacturing of candles, lip balm, shower gel, shampoo, conditioner; Face and body lotions; Non-medicated skin creams with essential oils for use in aromatherapy; Oils for perfumes and scents; Perfume; Perfume oils; Perfumed creams; Perfumed soaps; Scented body spray; Skin soap." It describes its essence as having been "created for the sole purpose of comfort and attraction" and marks its products with "Solace®".
According to the doTERRA website, doTERRA sells its product, a blend for women, as "Solace™". It describes its oil as "a proprietary blend of Certified Pure Therapeutic Grade® essential oils carefully formulated to balance hormones and manage symptoms of PMS and the transitional phases of menopause." (It also provides the disclaimer, required by the Food and Drug Administration, that the "product is not intended to diagnose, treat, cure, or prevent disease.")
In its complaint, Ambre Blends contends that doTERRA willfully and intentionally used the Solace mark knowing both that the mark was the property of Ambre Blends and that such a use was unlawful. It further asserts that doTERRA's use of the mark was intended to cause confusion, mistake or deception among the general public and that doTERRA acted in bad faith.
The complaint asserts, inter alia, violations of the Lanham Act and unfair competition:
• Count I: Trademark Infringement
• Count II: False Designation of Origin
• Count III: Unfair Competition
• Count IV: Forgery
• Count V: Corrective Advertising Damages
• Count VI: Declaratory Judgment
• Count VII: Preliminary and Permanent Injunctive Relief
Trademark counsel for Ambre Blends seeks a declaratory judgment; a preliminary injunction; a permanent injunction; damages, including treble damages; costs and attorney's fees; the transfer to Ambre Blends of any domain name that includes "Solace"; and corrective-advertising damages.
Practice Tip #1: From the complaint, this appears to be a straightforward case of infringement. However, Ambre Blends may have a tougher case than is obvious from the complaint itself. It appears from doTERRA's sales literature that doTERRA has used the mark "Solace" along with "™", thus claiming rights in the mark, at least as early as 2011. In contrast, Ambre Blends did not file its application until April 4, 2011; it was published for opposition on October 16, 2012. A federal registration confers a presumption of validity. However, here, the right to use the mark "Solace" may result in a battle of the facts.
Practice Tip #2: This complaint highlights the difference between the "®" mark and the "™" mark. While the former may not be used until a mark has been granted a federal registration, the latter has no such requirement. Instead, it may be used whenever a business wishes to put competitors on notice that it considers the mark to be its intellectual property.
Practice Tip #3: doTERRA is currently embroiled in litigation in both state and federal court in Utah with Young Living, another giant in the essential-oil industry.
This complaint was filed by Jonathan G. Polak, Amy L. Wright and M. Zach Gordon of Taft Stettinius & Hollister LLP. The case was assigned to District Judge Sarah Evans Barker and Magistrate Judge Debra McVicker Lynch in the Southern District of Indiana and assigned Case No. 1:13-cv-01813-SEB-DML.