Indianapolis; IN – Trademark attorneys for App Press, LLC of Indianapolis, Indiana filed a declaratory judgment suit seeking a declaration that it is not infringing the trademarks of Apress Media, LLC of New York, New York.
App Press, LLC brings action against Apress Media, LLC in order to protect the right to use and continue to conduct business under the registered trademark, and asserts that use of the mark for App Press does not infringe on any trademark held by Apress. App Press is a company that creates, owns, and licenses the use of web-based software that allows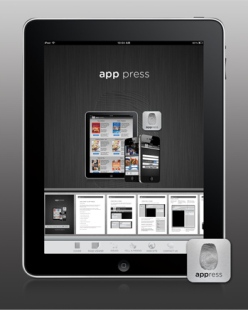 consumers to create apps that can be used on mobile devices. According to the Complaint, App Press applied for trademark registration on January 7, 2011 and was registered by the United State Patent and Trademark Office on August 9, 2011. During this period, the trademark was open to opposition on May 24, 2011. Apress Media is a publishing company that edits, publishes and sells books with the focus on technological issues and how-to advice. Apress Media applied for trademark registration on May 7, 2010 and was registered on March 8, 2011. According to App Press, on August 15, 2011, Apress Media sent a cease and desist letter demanding App Press immediately stop the use of their trademark alleging that it infringed on the trademark of Apress and constituted trademark infringement, unfair competition, cyberpiracy and dilution. App Press claims that they forwarded the letter to their counsel who contacted Apress Media's counsel by phone. Almost two weeks passed that counsel for both parties went back and forth via telephone before they were able to confer regarding the issues set forth in the letter in which App Press agreed and sent a letter describing their product and why it was not infringing on Apress Media's trademark. Approximately eight months later, on May 8, 2012, Apress again contacted App Press and again asserted that App Press's use of the App Press trademark was infringing on the Apress trademark. Counsel for App Press has filed the Complaint for declaratory relief and to obtain declaration that App Press's use of their trademark does not infringe upon any trademarks owned by Apress Media.
Practice Tip: The remedy of declaratory judgment is found in 28 U.S.C.A. § 2201 and allows for any US court to declare the rights and other legal relations of any interested party seeking such declaration, whether or not further relief is or could be sought.

This case has been assigned to Judge Sarah Evans Barker and Magistrate Judge Debra McVicker Lynch in the Southern District of Indiana, and assigned Case No. 1:12-cv-00718-SEB-DML.
Further Information about the case is as follows:
APP PRESS LLC v. APRESS MEDIA LLC
Plaintiff: APP PRESS LLC
Defendant: APRESS MEDIA LLC
Case Number: 1:2012cv00718
Filed: May 24, 2012
Court: Indiana Southern District Court
Office: Indianapolis Office
Presiding Judge: Sarah Evans Barker
Referring Judge: Debra McVicker Lynch
Nature of Suit: Intellectual Property – Trademark
Cause: 28:2201 Declaratory Judgement
Jury Demanded By: None