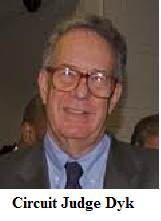 Washington, D.C. – The United States Court of Appeals for the Federal Circuit heard an appeal in the matter of Ineos USA LLC v. Berry Plastics Corporation. It affirmed the decision reached by the United States District Court for the Southern District of Texas, Case No. 3:13-cv-00017, regarding the infringement of Patent No. 6,846,863 (the "'863 patent), which was issued by the U.S. Patent and Trademark Office.
Ineos holds the '863 patent, which was directed to polyethylene-based compositions which could be used to form shaped products, such as screw caps for bottles. In a patent lawsuit filed in Texas, Ineos accused Berry Plastics of infringing its '863 patent.
Berry Plastics moved for summary judgment that the asserted claims were anticipated independently by various prior art references, including U.S. Patent No. 5,948,846. Prior art incorporated a lubricant to allow the cap to glide better, which facilitated unscrewing the cap. However, in addition to increasing usability, the prior chemical formulations also imparted a bad odor and flavor to food products stored in contact with them. Ineos' '863 patent claimed to have solved this problem by modifying the proportions of polyethylene, lubricants, and additives.
The district court ruled in Berry Plastic's favor, holding that the '863 patent was invalid as anticipated by prior art under 35 U.S.C. § 102 (2006).
Ineos appealed from the district court's ruling. The Federal Circuit affirmed, holding that Ineos had failed to show that the range claimed by the '863 patent was "critical to the operability of [Ineos'] invention."
The case was assigned Case No. 14-1540 and decided by Circuit Judges Dyk, Moore and O'Malley.