Indianapolis, IN – Patent lawyers for Bald Spot Racing, LLC of Indianapolis, IN have filed a patent infringement suit alleging BSCI, Inc. of Mooresville, NC infringed patent no. 6,733,710 VEHICLE PASSENGER RESTRAINT AND METHOD OF PRODUCING SAME, which has been issued by the US Patent Office. Despite the title of the patent, its single claim is limited to a method for making a car seat that is custom formed to a specific driver.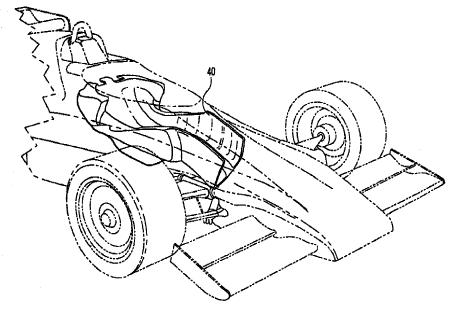 The single independent claim of the patent is:
1. A method of producing a restraint for a passenger of a vehicle comprising the steps of:
placing an enclosure of flexible plastic within a vehicle;
placing a passenger of the vehicle atop and adjacent said enclosure while in said vehicle;
allowing said flexible plastic to form around the passenger forming a plastic restraint;
removing the passenger from the vehicle;
causing the plastic restraint to harden;
removing the plastic restraint from the vehicle; scanning said plastic restraint to profile said plastic restraint; and, shaping solid plastic in accordance with the profile of the plastic restraint producing a passenger restraint.
This case has been assigned to Judge Jane E. Magnus-Stinson and Magistrate Judge Tim A. Baker in the Southern District of Indiana, and assigned case no. 1:11-CV-00095-JMS-TAB.
Practice Tip: The complaint alleges upon "information and belief" that the defendant "sold or offered for sale seat inserts for a racecar within this judicial district that were made by the defendant using a process protected by the patent . . ." An intriguing issue in this case is likely to be whether the defendant is subject to personal jurisdiction in Indiana if it did not actually practice the method in Indiana, and has no other contacts with Indiana. Personal jurisdiction could be more likely if there was an actual sale of a product of a seat insert to a customer in Indiana that was made using the patented method. It is not unusual for a patent owner to purchase one of the defendant's products in the State where the patent owner plans to file suit, and then to reference that sale in the complaint to improve the odds so of acquiring personal jurisdiction over the defendant. The complaint here does not reference such a purchase.
Complaint – Bald Spot Racing v. BSCI, Inc.
Further information about this case is as follows:
Filed: January 20, 2011 as 1:2011cv00095 Updated: January 24, 2011 22:06:08
Plaintiff: BALD SPOT RACING, LLC
Defendant: BSCI, INC.
Presiding Judge: Jane Magnus-Stinson
Referring Judge: Tim A. Baker
Cause Of Action: Patent Infringement
Court: Seventh Circuit > Indiana > Southern District Court
Type: Intellectual Property > Patent