Indianapolis, IN – Patent lawyers for plaintiff Schwindt, claim the defendants Miller and Mark omitted Schwindt as an inventor on a patent application, that turned out to be worth millions. All three were early founders and investors in Suros Sugical Systems, an Indianapolis medical device manufacturer founded in 2000. Suros grew quickly, and was acquired for $240 million by Hologic in 2006.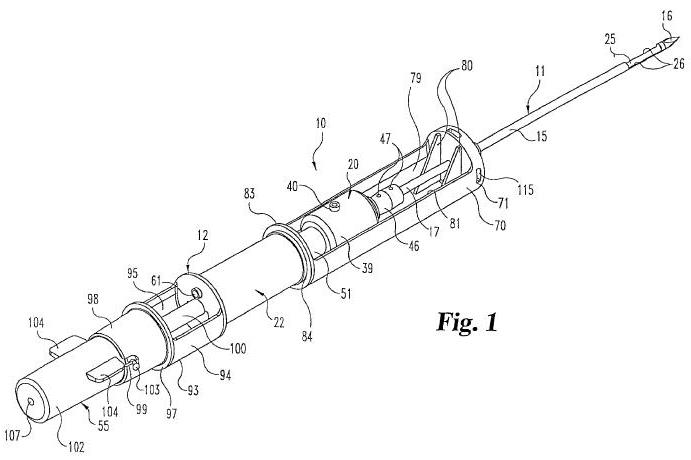 Plaintiff Schwindt did some outside engineering consulting for Suros. He claims his contributions (suggesting a pneumatic control, a pressure switch and a pneumatic circuit manifold for a biopsy device) elevate him to the status of an "inventor" of the system on which he worked. Suros applied for and was issued several patents, including 6,758,824, although Schwindt was not named an "inventor" on the applications filed by Suros.
Schwindt later started his own company, Tissue Extraction Devices, and filed for his own patent applications for the same invention. This led to an interference proceeding, which remains pending. According to the complaint, in that proceeding, "the USPTO suggested that it is the district court and not the Office that is in the best position to fashion an equitable remedy to fit the facts in cases [such as this one] where inequitable conduct is established." In contrast, Suros claims in the interference that Schwindt simply followed instructions to fabricate a circuit board and console for Suros's device using off-the-shelf components and had no involvement in the biopsy device's development.
Notwithstanding the ongoing interference proceeding, in the present suit, Schwindt asks the Court to declare him a co-inventor of the patents issued to Suros.
Practice Tip: This case highlights the importance of having clear intellectual property rights agreements when utilizing outside consultants. Even though a company may pay an outside firm to assist with developing a product, unless the agreement specifically calls for the assignment of inventions, the consultant will own the right to any resulting inventions, not the company commissioning the work.
It will be interesting to see how the Court addresses jurisdictional issues. The Complaint asserts claims for fraud/deception, unjust enrichment, and "accounting," which are all state law claims that do not appear to invoke Federal jurisdiction. The only claim alleged to justify federal jurisdiction is that for declaratory judgment that the plaintiff is a co-inventor of the patents. However, patent ownership issues usually arise under state law. Jim Arnold Corp. v. Hydrotech Systems, Inc., 109 F.3d 1567 (Fed. Cir. 1197), cert. denied sum nom., 118 S. Ct. 338 (1997).
The complaint and more information about this suit is below.

Complaint – Schwindt v. Miller
Filed: January 21, 2011 as 1:2011cv00110 Updated: January 25, 2011 22:05:02
Plaintiff: JEFFREY R. SCHWINDT
Defendants: JOSEPH L. MARK and MICHAEL E. MILLER
Presiding Judge: Jane Magnus-Stinson
Referring Judge: Mark J. Dinsmore
Cause Of Action: Constitutionality of State Statute(s)
Court: Seventh Circuit > Indiana > Southern District Court
Type: Intellectual Property > Patent