Indianapolis, Indiana – Plaintiffs, Esther A. L. Verbovszky ("Verbovzsky") and Hug Me Joey, LLC ("Hug Me Joey"), less than a year after voluntarily
dismissing a similar lawsuit, have once again filed a complaint against Defendant Dorel Juvenile Group, Inc. d/b/a Maxi-Cosi ("Dorel") claiming patent infringement. According to the Complaint, Verbovzsky strives to design and invent products to abate breathing and digestive issues in small infants during transport. Verbovzsky further claims to be the owner of U.S. Patent No. 6,467,840 (the '840 Patent") for "Child's Car Seat Insert." As the founder and CEO of Hug Me Joey, Verbovzsky allegedly licensed the '840 Patent to Hug Me Joey for the manufacturing of the Hug Me Joey child's car seat insert (the "HMJ Insert").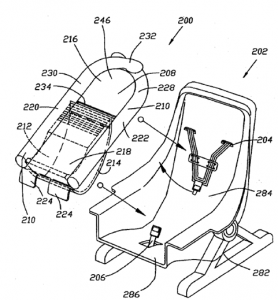 Apparently Dorel manufactures car seats, including 22 models that were nam ed in the Complaint as the "Accused Products". Plaintiffs claim each of the Accused Products that are manufactured and/or sold by Dorel infringe the '840 Patent due to the "infant insert", "insert cushion(s)", "insert pillow", "body pillow", or "body insert pillow" that is stated to come with each car seat. The Plaintiffs believe the infringement by Dorel to be willful and knowingly. Threfore, they are seeking treble damages and a finding that this is an exceptional case pursuant to 35 U.S.C. §§ 284 and 285, respectively.
The case was assigned to District Judge Richard L. Young and Magistrate Judge Matthew P. Brookman in the Southern District and assigned Case 1:20-cv-00061-RLY-MPB.