Indianapolis, Indiana – An Indiana trademark attorney for Chartreuse LLC of Indianapolis,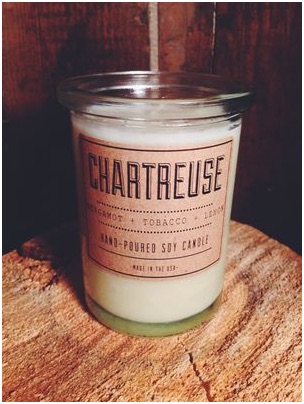 Indiana ("Chartreuse") filed a lawsuit in the Southern District of Indiana seeking a declaration that the trademark Chartreuse, Trademark Registration No. 2,997,572, would not be infringed when used in association with handmade soy candles. The trademark, which has been issued by the U.S. Patent and Trademark Office, belongs to Chartreuse Fragrances LLC of Fort Lee, New Jersey ("Chartreuse Fragrances").
Chartreuse states that it has been selling handmade soy candles bearing a "Chartreuse" trademark since January of 2013. Chartreuse Fragrances indicates, via its trademark application, that it has used the "Chartreuse" trademark in commerce since 2002. The trademark is registered to Chartreuse Fragrances for use on candles.
Chartreuse states in its complaint that, on January 7, 2014, Chartreuse Fragrances asserted that Chartreuse's use of the "Chartreuse" mark constituted trademark infringement and demanded that Chartreuse cease and desist all use of the trademark. Plaintiff Chartreuse also states that Chartreuse Fragrances contended that Chartreuse's use of the trademark in connection with the candles was likely to cause consumer confusion.
In this complaint, Chartreuse requests a declaration that its use of "Chartreuse" in connection with handmade soy candles has not infringed the intellectual property rights of Chartreuse Fragrances in the "Chartreuse" trademark. Chartreuse also seeks a declaration that any trademark rights asserted by Chartreuse Fragrances are invalid and unenforceable. Chartreuse supports this assertion in part by contending that Chartreuse Fragrances' trademark is descriptive of Defendant's candles and therefore not entitled to registration, as the term Chartreuse is descriptive of a greenish-yellow color.
Chartreuse makes several additional claims in its complaint: that Chartreuse Fragrances misstated the first-use-in-commerce date that it provided to the U.S. Patent and Trademark Office ("USPTO"); that Chartreuse Fragrances asserted falsely to the USPTO that it was using the trademark at the time it applied for a federal registration with the USPTO; that Chartreuse Fragrances is not currently using the trademark in interstate commerce in connection with the candles; and that any use by Chartreuse Fragrances of the trademark on or in connection with candles has been discontinued for at least three consecutive years and, thus, the trademark has been abandoned pursuant to § 1127 of the Lanham Act.
Chartreuse's complaint, filed by an Indiana trademark lawyer, makes two claims for relief: 1) Unenforceability and Invalidity of Defendant's Mark and 2) Non-Infringement of Trademark. It asks that Chartreuse Fragrances' trademark be declared to be not entitled to registration; that the trademark be canceled; for a declaration that Chartreuse is not infringing, has not infringed, and is not liable for infringing the trademark; and for attorneys' fees, costs, and expenses.
Practice Tip:
At first glance, this complaint has a number of potential areas of weakness. While this is a suit for declaratory judgment, it seems as if it may not be yet justiciable for lack of ripeness. In MedImmune v. Genentech, 549 U.S. 118 (2007), the U.S. Supreme Court revised the Federal Circuit's test for ripeness under the Declaratory Judgment Act, which had required a reasonable apprehension of a lawsuit in order to establish jurisdiction. The Court broadened the scope of declaratory judgment jurisdiction, holding that the totality of the circumstances should be evaluated in determining the existence of "a substantial controversy, between parties having adverse legal interests, of sufficient immediacy and reality to warrant relief."
In this case, where the only allegation of controversy is that a single assertion of infringement was purportedly made, it is unclear whether the complaint adequately alleges, under the totality of the circumstances, a controversy of sufficient immediacy to warrant jurisdiction under the Declaratory Judgment Act.
Additionally, Plaintiff asserted that "Defendant's Mark is descriptive of the Covered Goods and therefore not entitled to registration, as the term CHARTREUSE is descriptive of a greenish-yellow color." However, it was not alleged in the complaint that Chartreuse Fragrances' product was, in fact, greenish-yellow in color.
Thus, it appears somewhat more likely, without additional facts, that this trademark might properly be placed into the "arbitrary" category. A trademark is deemed to be "arbitrary" when the word used as a trademark does not suggest or describe a significant ingredient, quality, or characteristic of the goods or services but instead is used in an unexpected or uncommon way (e.g., using "Apple" for computers). Under trademark law, trademarks falling into the arbitrary category are accorded the highest level of protection, as they are deemed to be inherently distinctive.
The suit was filed by Louis T. Perry of Faegre Baker Daniels LLP. The case was assigned to District Judge William T. Lawrence and Magistrate Judge Denise K. LaRue in the Southern District of Indiana and assigned Case No. 1:14-cv-00181-WTL-DKL.