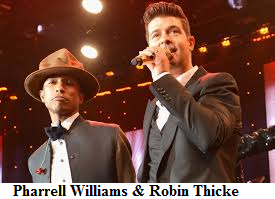 Los Angeles, California – The eight-person jury in the highly publicized trial over the song "Blurred Lines" concluded that Pharrell Williams and Robin Thicke had infringed the copyright of Marvin Gaye's "Got to Give It Up" and awarded almost $7.4 million to Gaye's family.
The 2013 smash hit "Blurred Lines" has been the subject of copyright infringement litigation for about a year and a half. The family of Gaye, who was known at the peak of his career as the Prince of Motown, privately approached Williams and Thicke with allegations of copyright infringement. Nona and Frankie Gaye, two of Gaye's children, contended that "Blurred Lines" infringed Gaye's 1977 hit "Got to Give It Up." Copyright attorneys for Williams and Thicke responded by filing a lawsuit under the Declaratory Judgment Act, asking the U.S. District Court for the Central District of California to declare that they had not infringed. The Gaye family countersued, asking for more than $25 million for the copyright infringement that was alleged.
Over the eight-day trial, copyright lawyers for Thicke and Williams emphasized two points in particular. First, they argued, any protection under copyright law extended only to the compositional elements in the sheet music for "Got to Give It Up." Other elements of "Blurred Lines," such as the percussion and the singing, they contended, were not protected by the copyright issued by the U.S. Copyright Office.
The copyright attorneys also argued that the works were not similar, introducing testimony that highlighted the differences between the two songs at issue, and that many well-known songs included similar elements. To help demonstrate the latter point, Thicke's testimony included playing a piano medley of U2's "With Or Without You," The Beatles' "Let It Be," Alphaville's "Forever Young," Bob Marley's "No Woman No Cry" and Michael Jackson's "Man in the Mirror," which was designed to show the similarity between many famous songs. Other testimony included that of musicologists for both sides, who provided professional opinions regarding similarities in the signature phrases, hooks, keyboard-bass interplays, lyrics and themes of the songs.
Despite testimony and arguments to the contrary, the jury found that "Blurred Lines" did infringe Gaye's copyright. Thicke and Williams were ordered to pay $4 million in copyright damages plus the profits attributable to copyright infringement. Those damages were calculated as $1.8 million and $1.6 million for Thicke and Williams, respectively, for a total of $7.4 million. The jury declined to hold that the copyright infringement had been willful.
Clifford Harris, Jr., the rapper more commonly known as "T.I.," who also performed in "Blurred Lines," and the record label were not found liable for copyright infringement.