Terre Haute, Indiana – Indiana trademark litigation against a corporate entity requires the participation of an attorney for the defense to avoid default.
In 2013, a trademark lawyer for Coach, Inc. of New York, New York and Coach Services, Inc.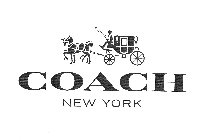 of Jacksonville, Florida (collectively "Coach") sued for trademark infringement in the Southern District of Indiana. Plaintiffs alleged that Dyer's General Store and Outlet ("Dyer's General"), Kimberly Dyer and David L. Dyer, all of Worthington, Indiana, infringed Trademark Registration Nos. 2,088,706 and 3,157,972, which have been registered by the U.S. Patent and Trademark Office.
In the complaint, Coach asserted Lanham Act violations including counterfeiting, trademark infringement, false advertising, common law trademark infringement, unfair competition, forgery, counterfeiting and unjust enrichment. Coach alleges that it is suffering irreparable injury and has suffered substantial damages as a result of Defendants' allegedly illegal activities.
David Dyer filed an answer pro se purporting to represent himself, Kimberly Dyer and Dyer's General. While only Mr. Dyer signed this answer, the court seems to have accepted the filing with respect to both Mr. and Ms. Dyer. However, in its most recent order, the court noted that "corporations cannot appear pro se, but must appear through an attorney." District Judge Jane Magnus-Stinson ordered Dyer's General, a corporate entity, to retain counsel to prepare an answer to the complaint if it intends to participate in the litigation.
Practice Tip: Coach is an active litigant, especially in matters of protecting its intellectual property. Since 2009, it has sued more than 20 retailers in Indiana federal courts.