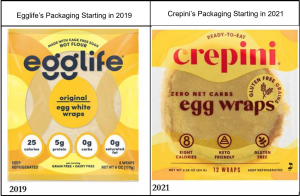 South Bend, Indiana – Apparently Egglife Foods, Inc. ("Egglife"), the Plaintiff, sell ready-to-eat wraps that are made with cage-free egg whites instead of flour ("egglife egg white wraps"). Introduced in 2019, founder Peggy Johns claims to have invented egglife egg white wraps, using a now patented method (U.S. Patent No. 10,194,669). Egglife claims its egglife egg white wraps are available in over 3,500 retail locations throughout the United States and have garnered a loyal following of passionate consumers. Since 2019, Egglife has allegedly invested $5 million dollars in the Egglife brand and is on pace to reach $30 million in retail sales in 2021. According to the complaint, Egglife products have a distinct packaging including a unique combination of shapes, colors, text font, a center window, and accent elements that act as a source identifier to its consumers (the "Trade Dress").
The Defendant, Crepini, LLC ("Crepini"), was apparently founded in 2007 with "the dream of bringing crepes into every North American household." Crepini allegedly sold its egg white thins products in at least three different packaging styles from early 2018 through 2019. Per the Complaint, Crepini owns U.S. Trademark Registration Nos. 5,888,044 and 5,447,364 for "Egg Thins" and "Egg White Thins," respectively. Egglife claims Crepini rebranded yet again and announced an extensive packaging overhaul including changing the name of the product to "egg wraps" on January 1, 2021.
With the newest rebranding, Egglife claims Crepini copied several elements of Egglife's Trade Dress including interwoven and overlapping shapes with rounded rather than squared edges, a transparent center window with overlaid graphics, lowercase brand straight across the upper quarter of the packaging and added "KEEP REFRIGERATED" to the bottom of the packaging. Per the Complaint, Crepini's new packaging has created actual consumer confusion based on social media comments indicating Egglife products can be purchased at Costco, when in fact, Crepini's "egg wraps" are sold in Costco stores.
Egglife is seeking damages for trade dress infringement and false designation of origin in violation of 15 U.S.C. § 1125(a). Further, Egglife is claiming Crepini's rebranding and new packaging is so similar to the Egglife Trade Dress that it has confused the public and constitutes unfair competition in violation of Indiana common law. Finally, Egglife alleges Crepini engaged in knowing, intentional, and deliberate actions to disseminate a product with packaging Crepini knows is misleading or deceptive with the intent to promote Crepini's business in violation of Indiana's Crime Victim's Relief Act, Ind. Code § 35-43-5-3.
The case was assigned to Judge Jon E. DeGuilio and Magistrate Judge Michael G. Gotsch, Sr. in the Northern District of Indiana and assigned Case No. 3:21-cv-00388-JD-MGG.