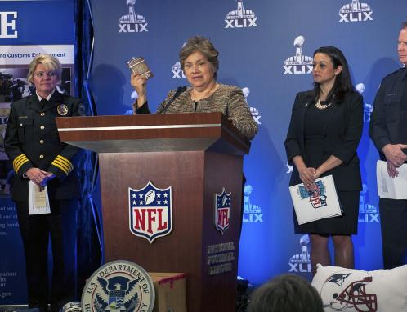 Phoenix, Arizona – Federal officials teamed with the National Football League (NFL) Thursday to announce the results of a nationwide law enforcement effort aimed at combatting counterfeit sports merchandise.
Speaking at a NFL news conference, U.S. Immigration and Customs Enforcement (ICE) Director Sarah R. Saldaña, U.S. Customs and Border Protection (CBP) Director of Field Operations William K. Brooks, and NFL Counsel Dolores F. DiBella discussed the results of the initiative, dubbed "Operation Team Player."
This year's operation began immediately following the conclusion of Super Bowl XLVIII and targeted international shipments of counterfeit merchandise as it entered the United States. Authorities identified warehouses, stores, flea markets, online vendors and street vendors selling counterfeit game-related sportswear and tickets throughout the country.
Fake jerseys, ball caps, t-shirts, jackets and other souvenirs are among the counterfeit merchandise and clothing confiscated by teams of special agents and officers from ICE's Homeland Security Investigations (HSI), CBP, U.S. Postal Inspection Service (USPIS), and state and local police departments around the country – all in partnership with the NFL and other major sports leagues.
"Counterfeiting is not a game," said ICE Director Saldaña. "It is most certainly not a victimless crime either. Whether it's the child in Southeast Asia working in deplorable conditions, or local stores going out of business, intellectual property theft is a very real crime with very real victims. No good comes from counterfeiting American products regardless of whether they are all-star jerseys, airbags, or aspirin."
Special agents from HSI and officers with CBP worked with sports leagues and law enforcement agencies throughout the nation to identify illegal shipments imported into the U.S., as well as stores and vendors selling counterfeit trademarked items. The teams seized more than 326,147 items of phony sports memorabilia along with other counterfeit items worth more than $19.5 million. Law enforcement officers have made 52 arrests in relation to Operation Team Player so far, with Super Bowl XLIX efforts continuing through Feb. 6.
"The NFL is proud to once again partner with ICE and the IPR Center in combating the illegal sale of counterfeit merchandise and tickets," said DiBella. "Together, we are working hard to protect fans and prevent them from being scammed by criminals seeking to profit from the public's passion for the NFL, their home teams and Super Bowl XLIX."
"The sale of counterfeit products [is] connected to smuggling and other criminal activities and threatens the competitiveness of our businesses, the livelihoods of U.S. workers, and in some cases the health and safety of the consumer," said CBP Commissioner R. Gil Kerlikowske. "CBP works closely with our federal government partners to protect the United States from these damaging and unsafe goods."
Understanding the economic impact of intellectual property theft, the U.S. Chamber of Commerce is also spreading the word about the dangers that counterfeit products pose to the economy.
"Major events like the Super Bowl can highlight an economic problem we face throughout the year – counterfeit products put good, high-paying jobs at risk in places like Seattle, New England and Phoenix," said David Hirschmann, president and CEO of the U.S. Chamber's Global Intellectual Property Center. "Innovative IP-intensive industries are responsible for over 1.4 million jobs in Massachusetts, 1.2 million in Washington, and 750,000 in Arizona. Sports fans need to be aware of criminals trying to take advantage of big events and holidays to sell counterfeit goods and compete with legitimate companies, like the ones that make the hats, jerseys, or other Super Bowl souvenirs from many of our most trusted brands."
The IPR Center is one of the U.S. government's key weapons in the fight against criminal counterfeiting and piracy. Working in close coordination with the Department of Justice Task Force on Intellectual Property, the IPR Center uses the expertise of its 23 member agencies to share information, develop initiatives, coordinate enforcement actions and conduct investigations related to intellectual property theft. Through this strategic interagency partnership, the IPR Center protects the public's health and safety and the U.S. economy.
To report IP theft or to learn more about the IPR Center, visit www.IPRCenter.gov.